| | |
| --- | --- |
| Model: | DTXF25TVMA |
| IPN: | 473473000766 |
| Brand: | Daikin |
| Colour: | White |
| Manufacturer's Warranty: | 5 Years |
| | |
| --- | --- |
| Controller: | |
| Cooling kW: | 2.0-2.9.kW |
| Heating & Cooling Centre: | |
| Heating kW: | 3.0kw |
| Price Shown: | - |
| Qualified Install Required: | Yes - We can assist with installations |
| Type: | Air Conditioner |
Aircon Split System DTXF-T Series 2.5kw Air Conditioner Daikin
Featuring a contoured glossy white flat panel design, intelligent eye, whisper quiet operations and an easy to use controller.
Key Features
It's the unique features of Daikin products that makes us the world leader.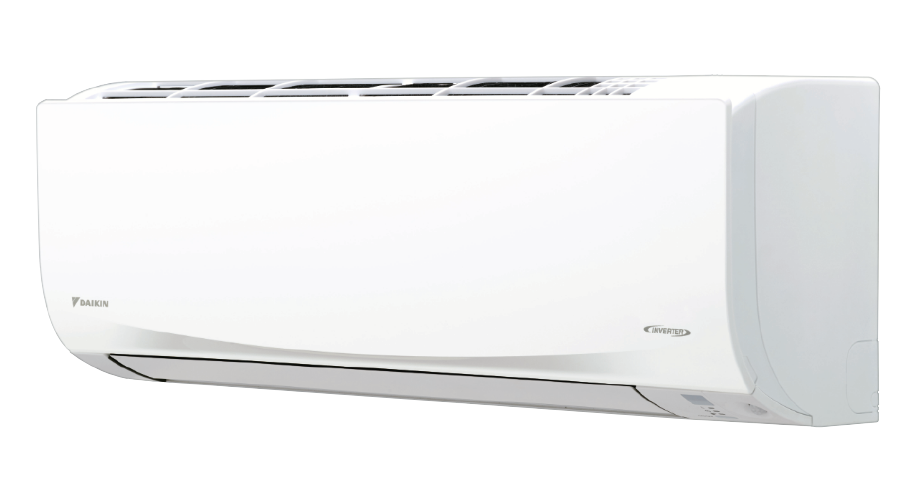 R32 Refrigerant
R32 is the next generation in refrigerants with 66% lower 'Global Warming Potential Factor' than R410A, providing less risk of harm to the environment.
Intelligent Comfort
Each model is fitted with Daikin's Intelligent Eye human sensor that ensures draft free comfort and automatically enables energy saving operations when the room is unoccupied.
Whisper Quiet
Daikin's DTXF-T is not just compact in size but also quiet in operations, featuring an Indoor Unit Quiet mode that reduces the indoor unit operational noise level down to 19dBA (25, 35 Class Models) to maintain room acoustics.
Lifestyle Convenience
Features a simplified backlit wireless remote controller with precision temperature set point adjustment in 0.5°C increments and a built-in count up-down ON/OFF timer for convenient set and forget operations.
Compact Size
Utilising a range of new technologies including R32 as a refrigerant, a redesigned indoor heat exchanger with Ø5mm piping and a new large rotor cross-flow indoor fan has resulted in a more compact design for both the indoor and outdoor machines.
Air Purification
Titanium apatite deodorising air purification filter traps microscopic particles, decomposes odours and even deactivates bacteria and viruses.
Available Options:
System: Reverse Cycle

Capacities: 2.5kW, 3.5kW, 5.0kW, 6.0kW, 7.1kW

Indoor Type: Wall Mounted

Power Supply: 1 Phase, 220-240, 50Hz

Refrigerant: R32
---
Camberwell Electrics Delivery Options
Customer Service is important to us, we offer two delivery options:
Standard Delivery - (Door to Door Only)
Premium Delivery - (Deliver, Unpack, Placement, Check Product, Takeaway Rubbish)
Call one of our team on 1300 882 257 to discuss the best delivery option suitable for your location and product.
I

mportant Note About Product Specifications
Every effort is made to ensure all specifications and information within this website is correct and up to date.
Due to continuous improvements on both technical and manufacturing level this information should be regarded as indicative only.
For installation of products requiring exact measurements, a product's measurements should only be taken from the actual physical product.
NOTE: On all handmade products the measurements can vary from the manufacture's information.
Stock Availability Note: We do not have stock levels on our website. Due to carry such a large range of products, some products are supplied direct from the supplier and some are from our warehouse.
When you place your order it may be in our warehouse or we may need to source it from our suppliers.
Each order is MANUALLY processed, when you place your order, the stock availability is checked. One of our friendly Product Specialists will then call you to confirm your order and advise you as to the stock availability.
If we cannot contact you we will either leave a voicemail message or send you an email with the relevant information.
Indoor Unit

DTXF25TVMA

Outdoor Unit

DRXF25TVMA

Rated Capacity

Cool (kW)

2.5

Heat (kW)

3

Capacity Range

Cool (kW)

0.9-2.8

Heat (kW)

0.9-3.2

Indoor Airflow Rate (H)

Cool (l/s)

160

Heat (l/s)

165

Indoor Fan Speeds

5 steps, quiet and automatic

Energy Label/Star Ratings

Cool

2.5

Heat

3

Front Panel Colour

White

Power Supply

1 phase, 220-240V, 50Hz

Power Input (Rated)

Cool (kW)

0.67

Heat (kW)

0.78

E.E.R/C.O.P

Cool/Heat

3.73/3.85

A.E.E.R/A.C.O.P

Cool/Heat

3.66/3.77

Dimensions (HxWxD)

Indoor (mm)

285 x 770 x 223

Outdoor (mm)

550 x 675 x 284

Weight

Indoor (kg)

9

Outdoor (kg)

27

Compressor Type

Hermetically Sealed Swing Type

Refrigerant Type

R32

Max Pipe Length

(m)

20

Max Level Difference

(m)

15

Pipe Sizes

Liquid (mm)

6.4

Gas (mm)

9.5

Outdoor Operating Range

Cool (°CDB)

-10 to 46

Heat (°CWB)

-15 to 18

Indoor Sound Level (H/SL)

Cool (dBA)

40/19

Heat (dBA)

40/20

Outdoor Sound Level (H/SL)

Cool (dBA)

47/43

Heat (dBA)

48/44

Outdoor EPA Sound Power Level (H)

Cool (dBA)

59

Heat (dBA)

60
Heating & Cooling Advisory Center Consultancy Service
Camberwell Electrics has one of the best equipped consultancy & advisory service centers in Melbourne.
The Heating & Cooling Team offer a wide range of services from free quotes, in-house system designs, on site inspections for domestic and commercial situations.
As we are based in Melbourne and have been providing quality service for the last 60 years we are fully committed to servicing our community.
With our vast pool of knowledge and experience we can assist with domestic and commercial installations from single room split systems to fit outs for small offices and warehouses to small factories.
We can supply reverse cycle, cassette systems, ducted systems and any combination large or small.
From our years of experience we have found every installation is unique. This means that because there are a number of varying factors that will influence the effectiveness of your installation and you will need to get some expert advice. Some of the factors that may influence your installation are- the amount of insulation in the floors, roof and floor; ceiling height; number of windows & doors; how much sun enters the room; suitable location for units to be installed and the airflow dynamics.
Our team are very experienced to be able to look at your situation and give you the best expert advice. We can provide free expert advice service quotes. Because we have several international brands to draw upon, you can be sure that Camberwell Electrics Heating & Cooling will have the right product for your situation. Along with our vast pool of experience we are well known to be able to deliver projects that others did not know how to do - don't be put off by calling us if others have said it can't be done!
We handle all aspects of heating & cooling in Melbourne, including repairs and installations. So you can be confident that we know what we are doing and will look after you.
For a commitment-free quote, or to talk to one of our experts about your heating and cooling needs, you have a number of options: