| | |
| --- | --- |
| Model: | ELS90DFSS/N |
| IPN: | 807129 |
| Brand: | Falcon |
| Colour: | Stainless Steel & Nickel |
| Manufacturer's Warranty: | 5 Year Warranty (Parts and Labour) |
| Manufacturer's Warranty: | 90cm |
| | |
| --- | --- |
| Oven Fuel: | Duel Fuel |
| Oven Type: | Multi Function |
| Type: | Range Cooker |
| Volume: | N/A |
Falcon Elise 90cm Black & Nickel Dual Fuel Range Cooker
The ultimate range for cooking up delicious cuisine, Falcon's quintessential Elise is inspired by generations of gourmet excellence. One glance at this chic range cooker is all it takes to identify its distinctly continental design direction and will instantly bring a touch of French-inspired flair into your home. Featuring both a multi-function and fan forced electric oven with 2 telescopic shelves (left hand oven only), a glide-out separate grill and 5 gas burner hob including wok burner, there is ample space to bake up a storm.
Selected Falcon upright range cookers are available in stainless steel with chrome or brushed chrome fittings (depending on the model).
Combining a wide variety of cooking functions in one single appliance, the new Nexus Steam range cooker from Falcon features a dedicated steam cavity, a first for the Australian range cooking market. The freestanding design gives you the chance to combine convenience with healthy cooking, retaining nutrients, vitamins and flavour thanks to the innovative injection steam cavity. Steam is highly sought after in today's modern, multi function kitchens and with the new Nexus Steam, users will also have the benefit of oven roasting, batch baking and rapid cooking in one appliance. It can also grill, griddle, boil and simmer and it even comes with a dedicated proving drawer for dough. The new steam oven cavity also includes a temperature controlled, rapid heat up grilling function to finish or brown food to perfection.
The Ultimate Cooking Experience
Providing everything a home cook could want from a single appliance, the new NEXUS Steam range cooker from Falcon is a unique innovation for the range cooking market. As well as oven roasting, batch baking and rapid cooking, users can now benefit from a dedicated steam cavity that retains food's vitamins, minerals, nutrients, texture and taste.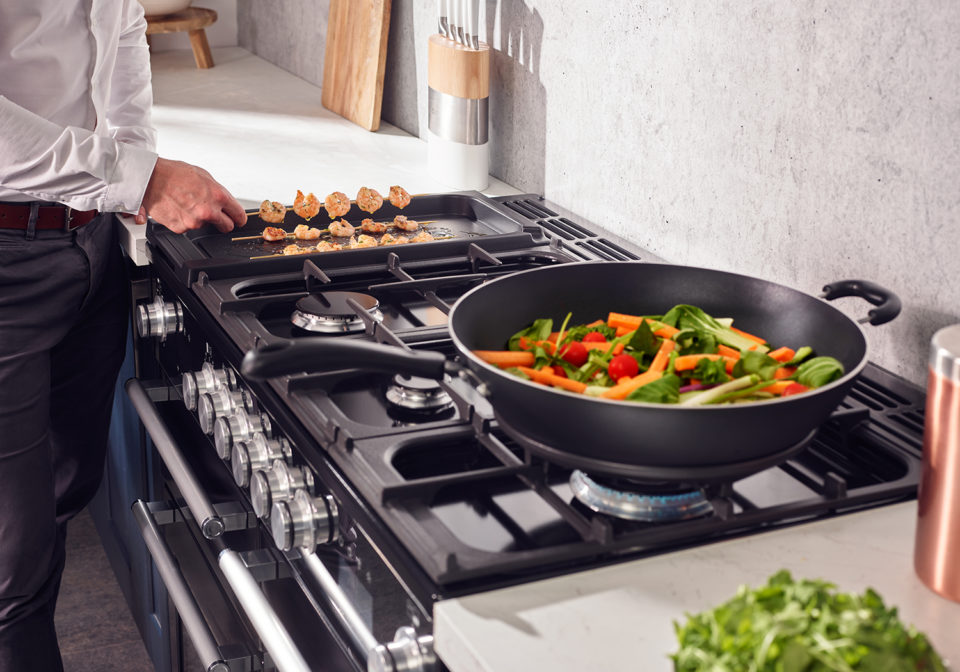 Why Use Steam Cooking?
Steam is a great way to cook a vast array of foods from eggs to fish, meat to vegetables, puddings to cheesecakes. When steaming foods, superior nutrients, texture and flavour are retained. With precise temperature control it enables everything from defrosting at 40°C to sous vide cooking around 57-64 °C to full steam at 100°C. It is effortless to say the least – just pop the food in, set the time and temperature, then press play and relax while the steam cavity does the work.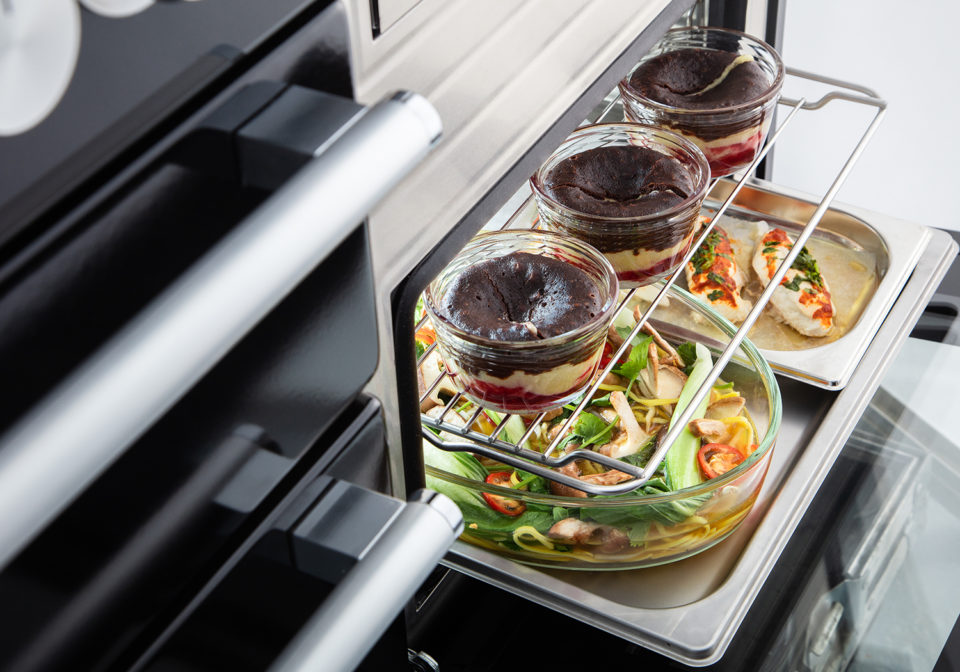 Cooking With Steam
There are many benefits to cooking with steam. When reheating dishes, lost moisture is restored which makes it perfect for leftovers. Cooking with steam is healthier with no oil or fat required. Fresh natural colours of food become more vibrant with the gentle cooking process and moisture is retained. Steam can even be used to sterilise bottles and jars for preserving. Accurate control of the temperature between 57-64°C for sous vide cooking is also achieved.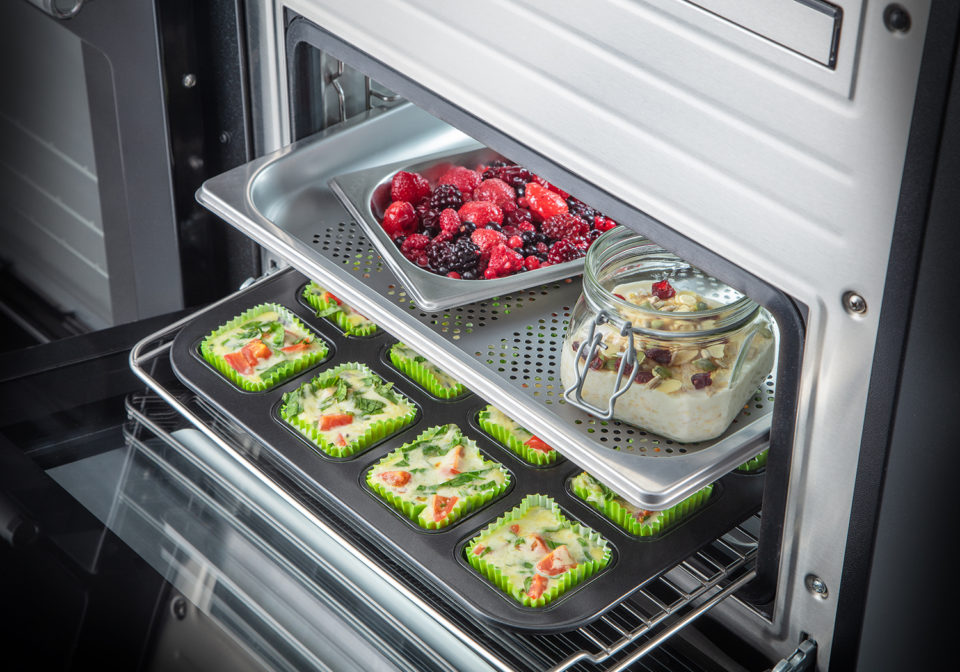 Flexible Gas Deluxe Hotplate
Falcon's spacious hob offers 5 gas burners and a multi-zone which allows you to choose between cooking directly on two ceramic 1.1kW zones or slot a durable non-stick griddle plate over the top to provide a healthy cooking surface the full depth of the cooktop. A multi-ring, large, medium (x2) and small gas burner offer flexibility when it comes to powerful, rapid, everyday and simmer style cooking.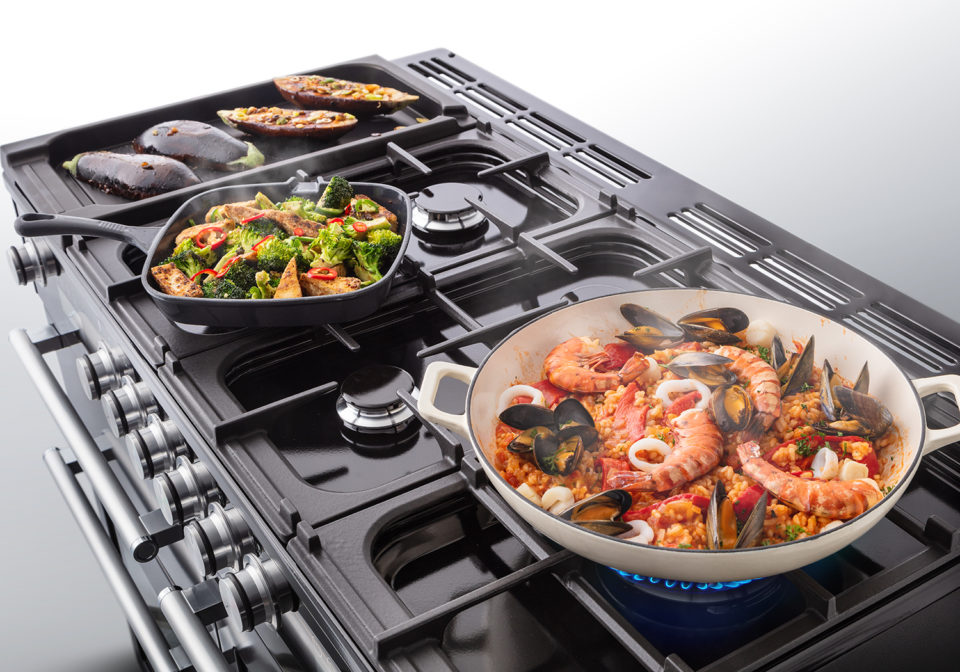 Controllable Induction Hob
Alternatively, if you prefer the option of a fast, responsive and incredibly controllable hob, the Nexus Steam is also available to choose with an Induction hob featuring 5 cooking zones with a bridging zone. This means that zones A and B can be bridged, creating an area ideal for use with the hard wearing, light weight induction griddle supplied. It also includes three low temperature settings and a power boost setting for maximum power instantly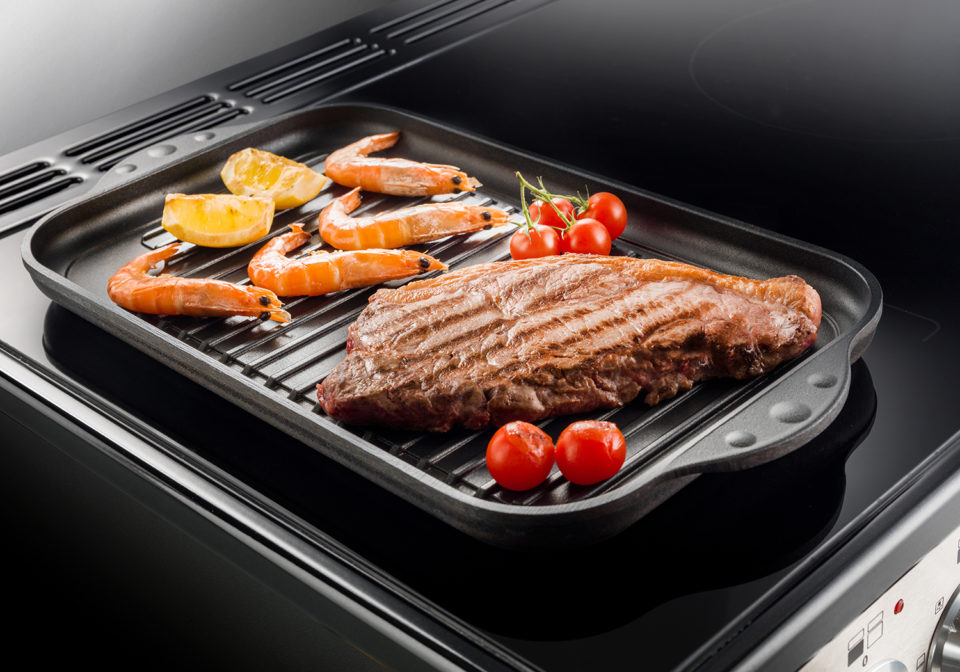 Intuitive Digital Touch Control Fascia
The brand new digital touch control fascia allows you to precisely control the steam cavity and multifunction oven to within a single degree for ultimate control and precision. The steam cavity ranges from 40°C which is great for defrosting to full steam at 100°C or alternatively for sous vide cooking around 57-64°C. The multifunction oven ranges from 40-260°C with the option to select every degree in between enabling food to be cooked accurately.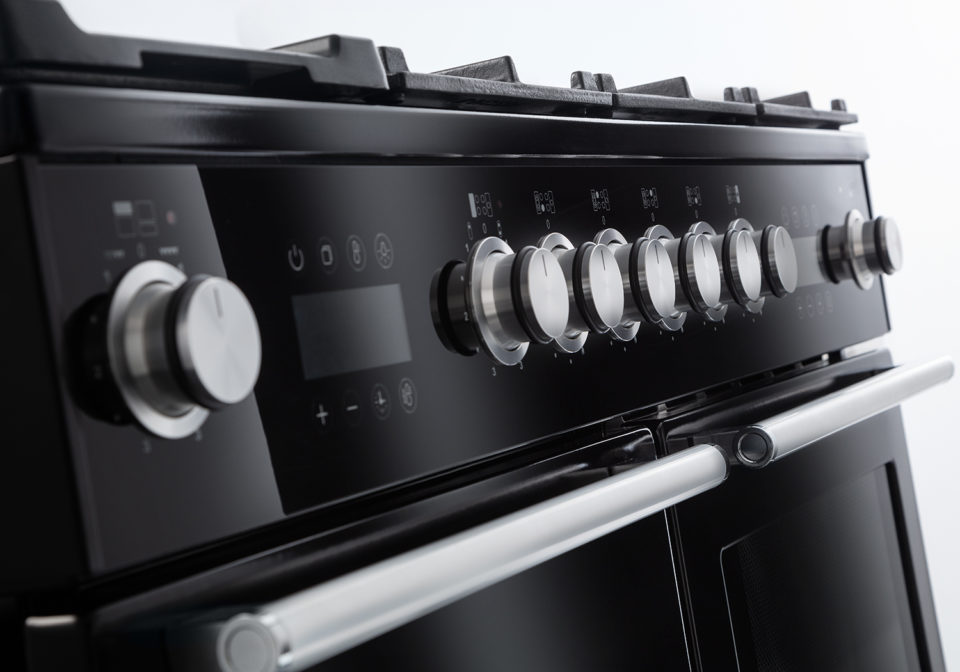 11 Multi Function Oven
The large capacity multi function oven offers 11 cooking functions to ensure your food is cooked to perfection. The 11 functions include a rapid heat up for when you are short on time, and 3 new range cooking functions: Duo, Delicate and Eco mode.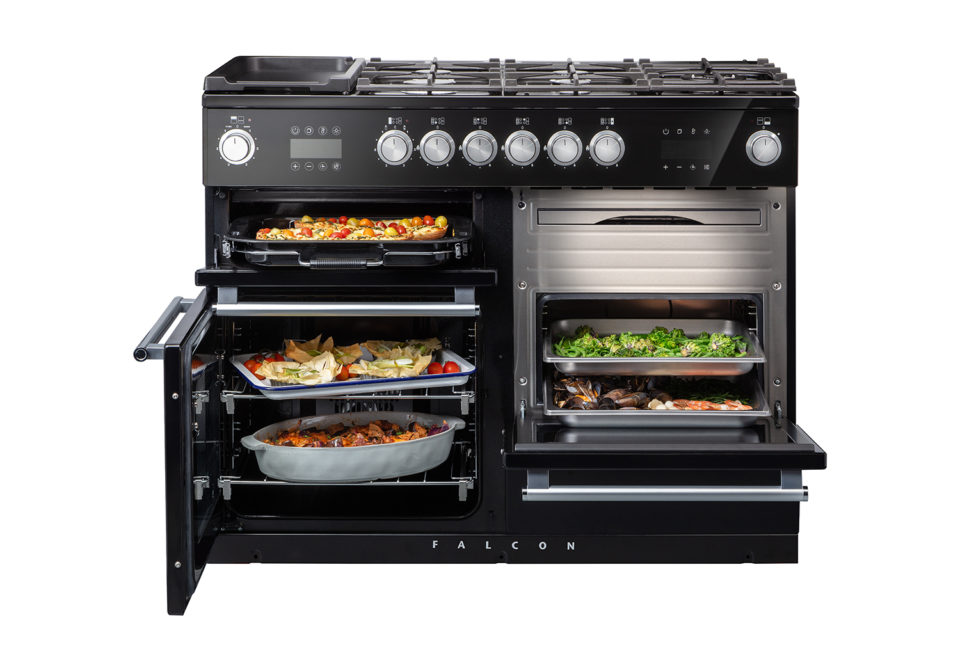 Dedicated Bread Proving Drawer
Operated via a rotary control dial on the fascia panel, the drawer is the perfect environment for proving dough reaching a temperature of 40°C. Alternatively the drawer could be used to melt butter, rest meat, take the chill off plates ready for serving or simply used for storage provided no plastic items are placed in the drawer.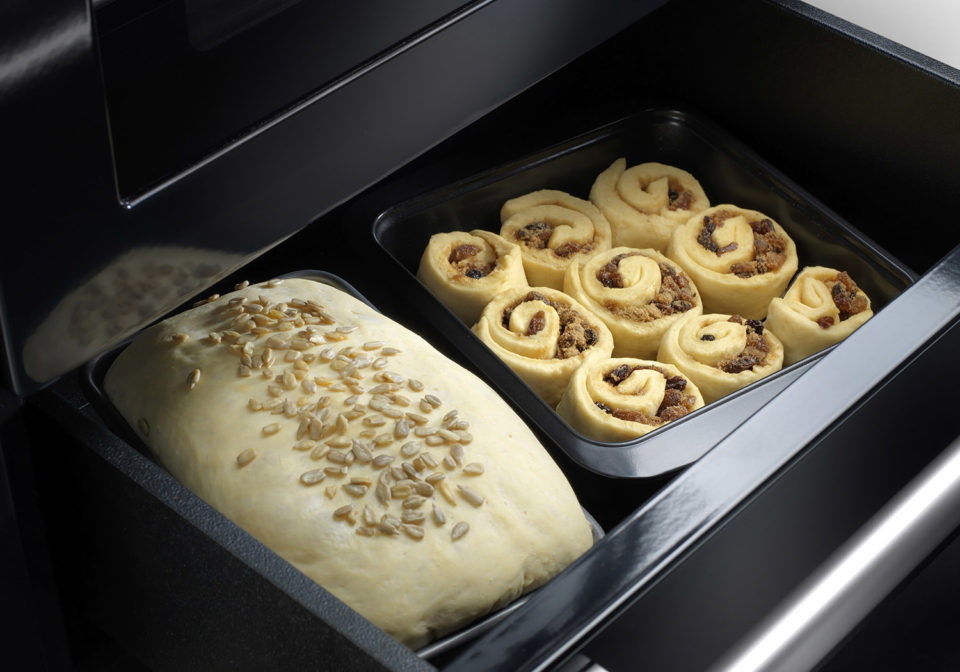 Deluxe Glide-Out Grill
Offering half or full width grilling for energy saving and three heat settings; low, medium and high, the deluxe glide-out grill features a 4-way trivet which enables food to be grilled closer or further away from the elements for flexible cooking. The touch safe handle combined with the telescopic runners makes checking on food effortless and you can easily clean the trivet and grilling tray by popping them in the dishwasher.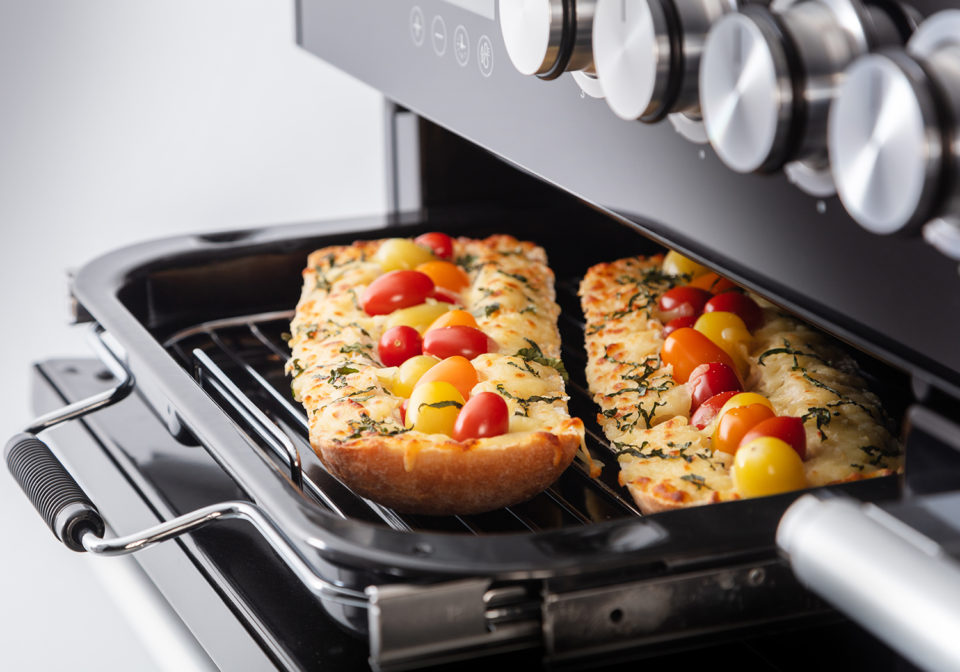 Functions:
Oven Light
Oven lights make it easy to view the what's cooking, without opening the oven door. All Falcon 110cm and 100cm falcon cookers with double ovens feature two oven lights. 90cm double oven cookers feature one light (in the oven with the porthole). 90cm single oven cookers feature two oven lights.
Slow Cook
All Falcon upright cookers offer the ability to slow cook. Temperatures can be set as low as 80°C which is great to slow cook casseroles and large joints of meat as well as to dry foods such as apples, pears and kiwi fruit. Falcon have a delicious slow cooked spiced lamb shoulder recipe which takes approximately 6 hours on 130°C. Slow cooking allows meats to cook more evenly (inside and out). It is imperative to use a temperature probe to check the internal temperature when cooking is nearing completion (desired internal temperature will depend on the meat) to ensure the meat is cooked sufficiently. NSW Food authority has a guide to safe internal cooking temperatures.
Flame Safety Device
All dual fuel and gas Falcon models are fitted with Flame Safety Device (FSD). Flame Safety Devices are part of the gas burner system, and automatically shut off the fuel supply should the flame accidentally extinguish, therefore making the gas hob safer. The FSD will activate to prevent an unsafe build-up of unburnt gas.
LPG Convertible
All Falcon cookers featuring natural gas cooktops or ovens can be converted to LPG. At the time of placing an order for a Falcon cooker ensure you inform your sales person you wish the cooker to be converted to LPG and it is noted on your order form.
Cast Iron Pan Supports
All Falcon upright range cookers with a gas hob include cast iron pan supports which are strong, durable and easy to clean. The style of the cast iron pan support varies depending on the model. Selected models also feature a non-stick multi-zone griddle plate (pictured), traditional griddle plate or teppanyaki style griddle plate.
Multi-function Oven Fan Assisted
Fan assisted function is one of the cooking functions available in a Falcon multi-function oven. It uses the top and bottom oven elements alongside the fan. It creates different temperature zones – with the hottest being at the top; ideal for crisping and browning the top and bottom of dishes as well as cooking them through.
Multi-function Oven Base Heat
Base heat is one of the cooking functions available in a Falcon multi-function oven. It uses only the bottom element. Base heat can be used for slow, gentle cooking or when turned up to high for crisping up the base of dishes.
Multi-function Oven Browning Element
Browning element is one of the cooking functions available in a Falcon multi-function oven and selected other Falcon cookers. It uses the exposed top element to create a very high intense heat for browning and toasting.
Multi-function Oven Conventional Oven
Conventional oven is one of the cooking functions available in a Falcon multi-function oven and a Falcon cooker than offers a traditional conventional oven. It is a traditional cooking method using top and bottom heat and zoned cooking. Much hotter at the top than the bottom. Ideal for traditional baking; e.g souffle.
Multi-function Oven Fan Oven
Fan oven is one of the cooking functions available in a Falcon multi-function oven and a Falcon oven that offers traditional fan oven. It uses an element at the back of the oven. The fan draws the air from the interior of the oven, heats it up and forces it back into the cavity. The heat within the oven is evenly distributed making it ideal for multi-level cooking (batch cooking or the cooking of different foods at the same temperature).
Multi-function Oven Defrost
Defrost is one of the functions available in a Falcon multi-function oven. It uses the fan only – no heat. Cold air is drawn from the frozen food to speed up the defrosting process.
Multi-function Oven Fanned Grilling
Fanned grilling is one of the cooking functions available in a Falcon multi-function oven. It uses the top oven element in conjunction with the fan. Fan grilling provides a grilled effect without the need to turn the food. Grill with the door closed.
Side Opening Doors
Selected Falcon upright range cookers feature side opening oven doors for your convenience. This allows easy access to the oven interior when cooking or cleaning.
Catalytic Oven Liners
Catalytic self cleaning oven liners (the grey with white flecked liners pictured inside the oven) assist with the cleaning of the oven. When temperatures exceed 200°C, the catalytic self cleaning liners burn off fats and food deposits. Minimal residue can then be wiped with a lint free cloth and soapy water when necessary. Catalytic liners are on the sides of selected Falcon range cookers in the left hand oven. Check detailed product specifications for model specific information.
Multi-Function
Falcon multi-function ovens offer up to eight functions for really flexible cooking. The ovens combine fan and conventional functions with grilling, base heat and browning elements, all of which can be used individually. Functions include fan assisted, fanned grilling, conventional oven, fan oven, browning element, defrost and base heat. Selected cookers also offer Rapid Response.
Tall Oven
Falcon 90cm double oven upright range cookers feature one main left hand oven and a tall oven on the right. Looks are certainly deceiving when it comes to this space – you will be surprised just how much food can fit in this cavity. The tall oven is supplied with four wire shelves which are adjustable to suit cooking height requirements.
Glide-Out Grill
Positioned on smooth-action telescopic runners, our standard glide-out grill with a two way grill trivet offers two grilling heights. Not only is it easier to check up on your food as it's grilling but it's also safer as it reduces the risk of pulling the grill out to far. The grill has two elements that allow either the whole area of the pan to be heated or just the right-hand half.
Wok Cradle
Cast iron wok cradles come as standard with selected Falcon upright cookers featuring gas burners. The wok cradle is the perfect accessory to secure a wok in place that has the traditional curved base.
Features:
Catalytic liners

Flame failure safety device

Telescopic runners - oven, Wok cradle
Oven functions:
Conventional

Defrost

Fan oven

Fanned grilling

Fan assisted oven

Browning element

Base heat
---
Camberwell Electrics Delivery Options
Customer Service is important to us, we offer two delivery options:
Standard Delivery - (Door to Door Only)
Premium Delivery - (Deliver, Unpack, Placement, Check Product, Takeaway Rubbish)
Call one of our team on 1300 882 257 to discuss the best delivery option suitable for your location and product.
I

mportant Note About Product Specifications
Every effort is made to ensure all specifications and information within this website is correct and up to date.
Due to continuous improvements on both technical and manufacturing level this information should be regarded as indicative only.
For installation of products requiring exact measurements, a product's measurements should only be taken from the actual physical product.
NOTE: On all handmade products the measurements can vary from the manufacture's information.
| | |
| --- | --- |
| Product type | Range cooker |
| Product range | Elise |
| Fuel type | Dual Fuel |
| Colours | Black (GB), Cherry Red (RD), China Blue (CA), Cream (CR), Slate (SL), Stainless Steel (SS), White (WH) |
| Cooker Width | 90cm |
| Style cooker | Country |
| Features | Catalytic liners, Flame failure safety device, Telescopic runners - oven, Wok cradle |
| Oven litres | 79 (LH), 67 (RH) |
| Oven type | Multi function electric (LH), Fan forced electric (RH) |
| Oven functions | Conventional, Defrost, Fan oven, Fanned grilling, Fan assisted oven, Browning element, Base heat |
| Oven door | Side opening |
| Grill | Separate electric glide-out |
| Hob configuration | 5 gas burners including multi ring burner |
| Fittings | Nickel (N) |
| Made in | UK |
| Width (mm) | 900 |
| Depth ex / inc handles (mm) | 621 / 648 |
| Height adjustable (mm) | 910 - 930 |
| Total MJ Rating | 43.6 |
| Rated Connected Load (AMPS) | 32 |
| Direct delivery | Direct delivery of Falcon appliances is available free for those residing within eligible postcodes in metropolitan areas. |
| P&L warranty (Years) | 5 |