| | |
| --- | --- |
| Model: | HWF75AW2 |
| IPN: | 739483 |
| Brand: | Haier |
| Colour: | White |
| Manufacturer's Warranty: | 2 Years |
| | |
| --- | --- |
| Capacity Wash: | 7.5KG |
| Energy Star Rating: | 3.5 Stars |
| Energy Use (p.a.): | 275kWh |
| Hinged On: | Front Load |
| Spin Speed: | 1200 rpm |
| Type: | Front Load Washer |
| Water Rating: | 4 Stars |
Haier 7.5KG Front Load Washer Wahing Machine - White
Offering a user-friendly design and intelligent features, the Haier HWF75AW2 7.5kg Front Load Washer is efficient and will satisfy your washing needs. Featuring 16 wash programs and a 7.5kg capacity, this washer is great for the growing family and their varying needs. The 'Delicates' and 'Hand Wash' cycles are great for silks and garments that require special care while 'Sports' cycle will tackle tough stains and remove dirt from the kids Saturday morning sports gear. The LED display allows you to easily choose a cycle while the child lock keeps wandering hands away from where they shouldn't be.
Features:
16 Programs

1200rpm Spin speed

Traditional Motor

Electronic, Button & Diamond Dial control

LED display

Delay end

Speed Up wash option

Child Lock

Long lasting Anti-Bacterial Treated door seal and detergent dispenser

Wave Drum design

Stainless steel inner drum

Adjustable temperature control

Automatic Door Lock
Benifits:
Washing Made Easy
Utilising a traditional motor, the Haier 7.5kg Front Load Washing Machine reaches a maximum spin speed of up to 1200rpm for superb cleaning results. Together with a 7.5kg capacity, it lets you carry out washing tasks with minimal hassle.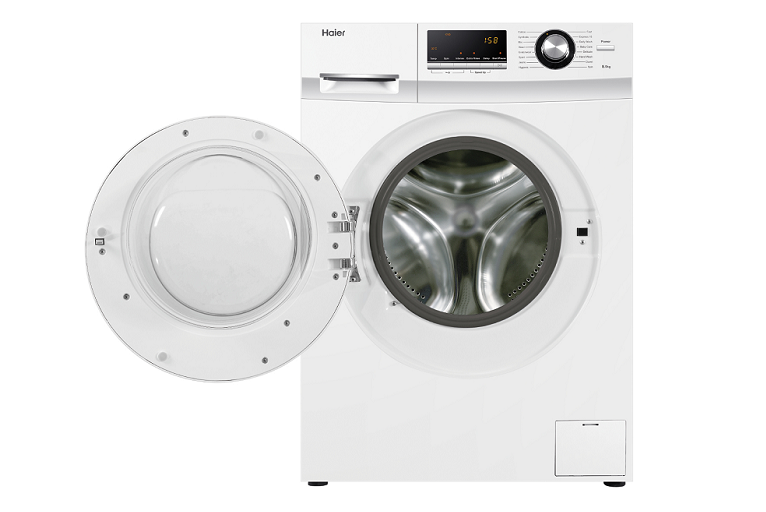 Gentle, Thorough Wash
With a Wave Drum design, this washing machine helps gently and efficiently wash your laundry. It also offers 16 wash programmes, including Cotton, Delicate, and Daily Wash, to easily adapt to varying cleaning requirements.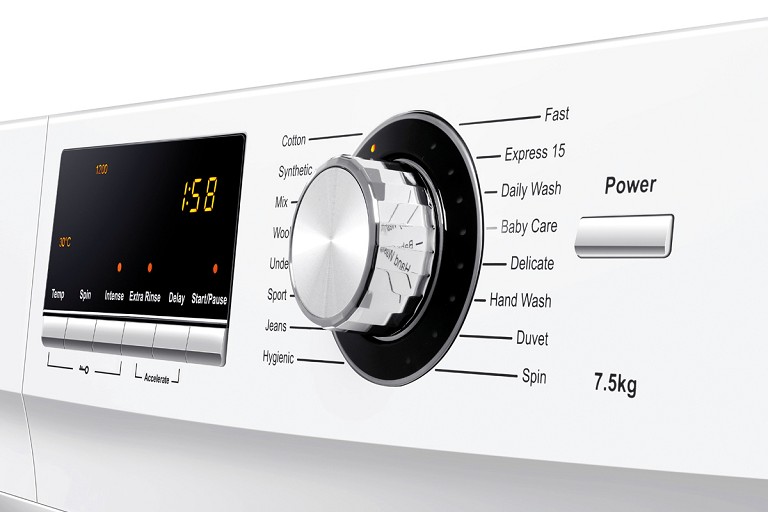 Easy-to-Use Design
Made with electronic, button, and Diamond Dial controls, this Front Load Washing Machine makes setting changes quick and simple. For added convenience, use the LED display to easily monitor washing progress.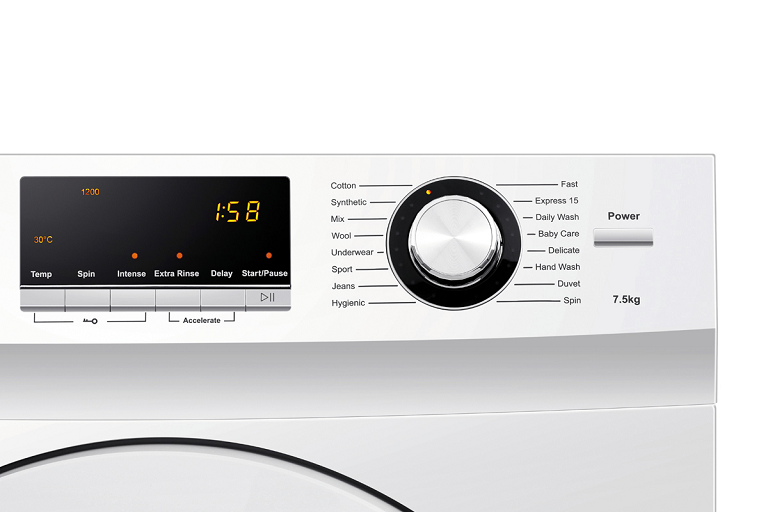 Designed for Busy Lifestyles
This Haier Front Load Washing Machine has a delay start function (from 30 minutes to up to 24 hours), allowing you to set your preferred duration. It even has a Speed Up wash function for quickly taking care of a wash load.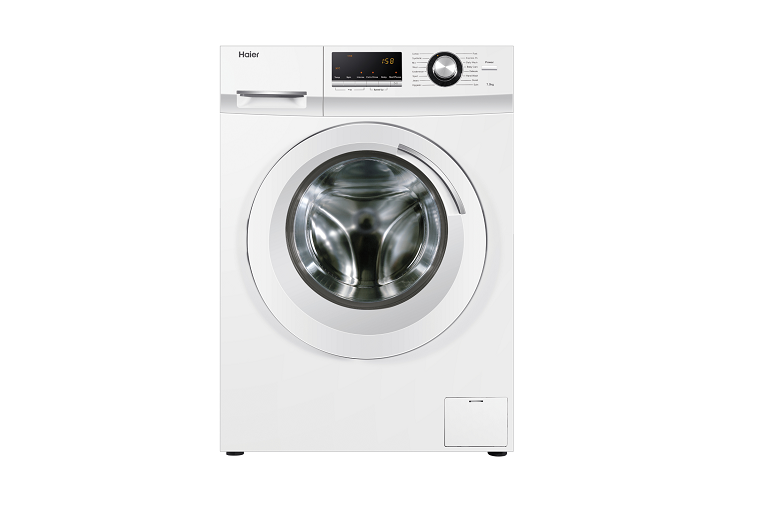 ---
Camberwell Electrics Delivery Options
Customer Service is important to us, we offer two delivery options:
Standard Delivery - (Door to Door Only)
Premium Delivery - (Deliver, Unpack, Placement, Check Product, Takeaway Rubbish)
Call one of our team on 1300 882 257 to discuss the best delivery option suitable for your location and product.
I

mportant Note About Product Specifications
Every effort is made to ensure all specifications and information within this website is correct and up to date.
Due to continuous improvements on both technical and manufacturing level this information should be regarded as indicative only.
For installation of products requiring exact measurements, a product's measurements should only be taken from the actual physical product.
NOTE: On all handmade products the measurements can vary from the manufacture's information.
Stock Availability Note: We do not have stock levels on our website. Due to carry such a large range of products, some products are supplied direct from the supplier and some are from our warehouse.
When you place your order it may be in our warehouse or we may need to source it from our suppliers.
Each order is MANUALLY processed, when you place your order, the stock availability is checked. One of our friendly Product Specialists will then call you to confirm your order and advise you as to the stock availability.
If we cannot contact you we will either leave a voicemail message or send you an email with the relevant information.
| | |
| --- | --- |
| Model | HWF75AW2 |
| Size | 7.5KG |
| Width | 595 |
| Depth | 600 |
| Height | 845 |
| Washer dry load capacity (KG) | 7.5 |
| Type | Front Load Washing Machines |
| Colour | White |
| Internal Tub Material | Stainless Steel |
| Power Consumption (kWh/yr) | 275kWh |
| Energy rating | 3.5 star |
| Water rating (WELS) | 4 star |
| Number of Program cycles | 16 |
| Spin speed (max, rpm) | 1200 |
| Traditional Motor | Yes |
| Long lasting Anti-Bacterial Treated door seal and detergent dispenser | Yes |
| Electronic, Button and Diamond Dial control with LED display | Yes |
| Delay end | Yes |
| Speed Up wash option | Yes |
| Child Lock | Yes |
| Wave Drum design for a gentler and more efficient wash | Yes |
| Stainless steel inner drum | Yes |
| Adjustable temperature control | Yes |
| Automatic Door Lock | Yes |
| Warranty | 2 Years |