| | |
| --- | --- |
| Model: | HR6FDFF701SW |
| IPN: | 666299 |
| Brand: | Hisense |
| Colour: | Stainless Steel |
| Manufacturer's Warranty: | 3 Year |
| | |
| --- | --- |
| Energy Star Rating: | 3 Star |
| Freezer Volume: | 137 L |
| Fridge Volume: | 525 L |
| Hinged On: | French Door |
| Type: | French/Multi Door |
Hisense 701L Stainless Steel French Door Fridge
Feature-rich and offering a generous interior capacity, the Hisense 701L French Door Fridge is a noteworthy appliance for the modern household. With its built-in ice and water dispenser, super cool function, and multi airflow system, this fridge is your one-stop solution for keeping food and other grocery items fresh for longer.
Optimum Cooling
Featuring a multi airflow cooling system, the Hisense French Door Fridge delivers consistent cold air distribution to each compartment. Thanks to this innovative cooling, you are assured that your fridge's interior maintains an optimal storing temperature.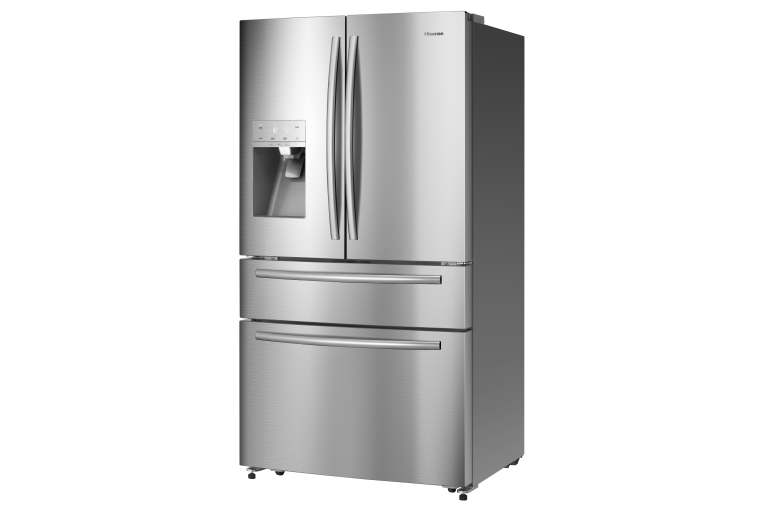 Flexible Storage
The Hisense 701L Fridge has customisable shelf configurations providing the needed flexibility to accommodate bulky items like pitchers, tumblers, and bottles. For added versatility, you can change the third drawer to a fridge or freezer depending on your needs.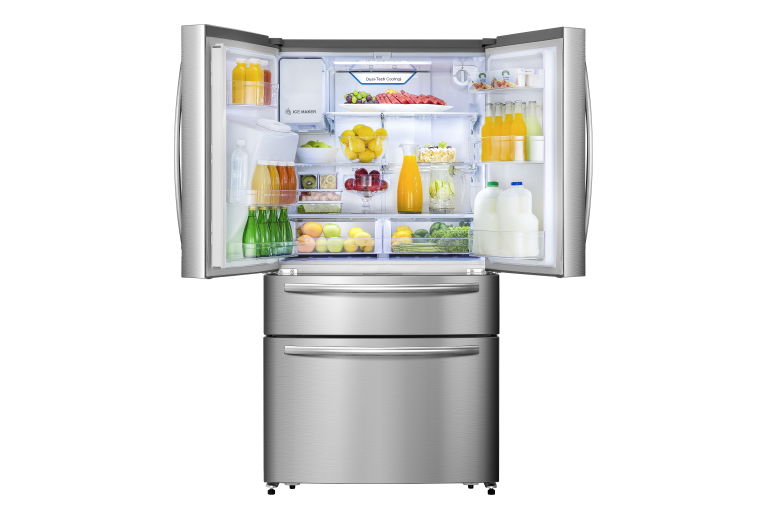 Cold Drinks Anytime
This French Door Fridge has a built-in water and ice dispenser, so you can be sure that a supply of chilled drinks is always at hand. Integrated with Frost Free technology, this refrigerator also prevents ice from building up on your stored goods.*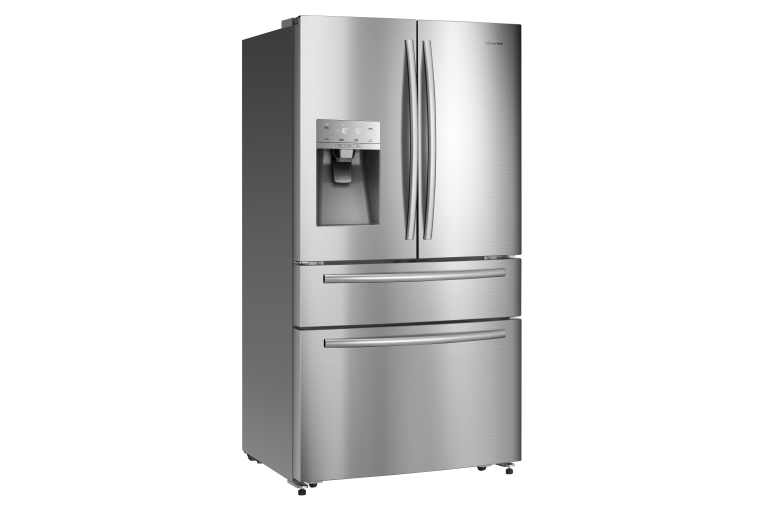 Easy to Use
Thanks to its strategically placed LED lighting, this Hisense Fridge provides ample illumination so you can easily locate whatever you need inside. For convenient operation and access to its features, this fridge comes with an intuitive touch control panel.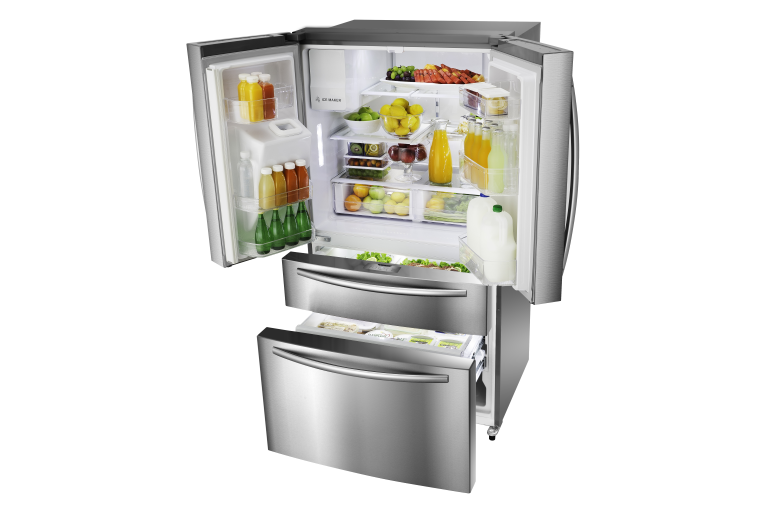 Features:
Inverter Technology
Hisense's Inverter Technology always maintains ideal temperatures meaning superior energy efficiency, a quieter fridge and better cooling resulting in a everyday reliability for your family.
Slide-away Shelf
An adaptable design solution delivering the flexibility to accommodate tall and large items in the main fridge compartment!
Water and Ice Dispenser
A permanent supply of chilled water, and able to make up to 1.8kg of crushed or cubed ice! (Authorised plumber required for installation)
Customisable Drawer
Sometimes you need more fridge space or sometimes you need more freezer space...and then there are those times you need to store things all on their own like sparkling wine or ice cream. The customisable third drawer can be changed to a fridge or a freezer - when you need it.
No Ice Build Up
No more discovering Siberia when you open your freezer with ice build-up all over your produce? Frost Free technology removes the frost build-up , clever!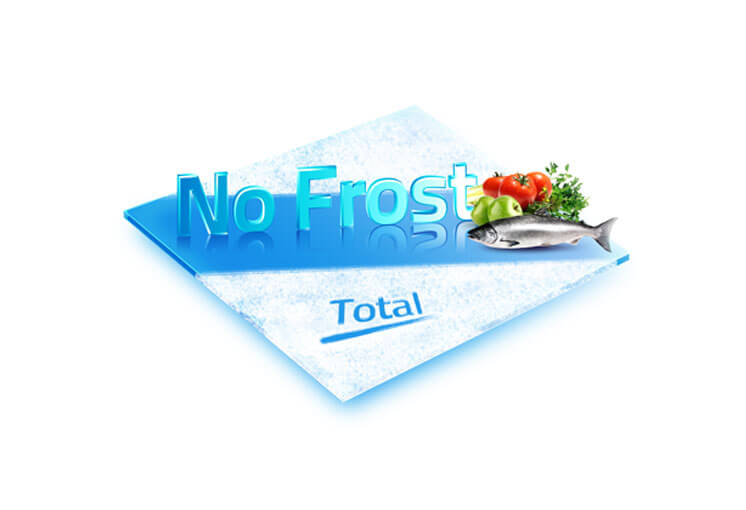 Power of LED
Strategically placed LED lighting brightens every corner of your refrigerator while reducing heat and energy output. Its space-saving design leaves more room for groceries.
---
Camberwell Electrics Delivery Options
Customer Service is important to us, we offer two delivery options:
Standard Delivery - (Door to Door Only)
Premium Delivery - (Deliver, Unpack, Placement, Check Product, Takeaway Rubbish)
Call one of our team on 1300 882 257 to discuss the best delivery option suitable for your location and product.
I

mportant Note About Product Specifications
Every effort is made to ensure all specifications and information within this website is correct and up to date.
Due to continuous improvements on both technical and manufacturing level this information should be regarded as indicative only.
For installation of products requiring exact measurements, a product's measurements should only be taken from the actual physical product.
NOTE: On all handmade products the measurements can vary from the manufacture's information.
Stock Availability Note: We do not have stock levels on our website. Due to carry such a large range of products, some products are supplied direct from the supplier and some are from our warehouse.
When you place your order it may be in our warehouse or we may need to source it from our suppliers.
Each order is MANUALLY processed, when you place your order, the stock availability is checked. One of our friendly Product Specialists will then call you to confirm your order and advise you as to the stock availability.
If we cannot contact you we will either leave a voicemail message or send you an email with the relevant information.
| | |
| --- | --- |
| Model | HR6FDFF701SW |
| Size | 701 Litre |
| Width | 914 |
| Height | 1776 |
| Depth | 845 |
| Type | French Door |
| Total Net/Gross(L) | 525/701 |
| Freezer Net/Gross(L) | 137/210 |
| Multi-use Compartment Net/Gross(L) 5°C, 3°C, -1°C, -15°C | 38/93 |
| Icemaking Compartment Net/Gross(L) | 25-Apr |
| Refrigerator Net/Gross(L) | 346/373 |
| Climatic type (SN, N, ST, T) | Oct-43 |
| Power V/Hz | 220~240/50 |
| MEPS year | 2010 |
| Frost free (Yes / No) | Yes |
| Automatic defrost (Yes / No) | Yes |
| CEC kWh/y MEPS2010 | 660 |
| PAEC kWh/y MEPS2010 | 626.71 |
| Star Rating MEPS2010 | 2.5 |
| Cut off kWh/y MEPS2010 | 1202.7 |
| U shape cabinet | Yes |
| Hidden hinge | Yes |
| Refrigerant | R600a |
| Adjustable front legs | Yes |
| Handle | Long Bar Handle |
| Reversible Door | No |
| Temp control | Electronic Control / LED Touch, Display on Door |
| Panel | Real Stainless Steel |
| shelves | Glass / 3 + Slide-away Glass Shelf / 1 |
| Wine rack | Yes / 1 |
| Door Basket(half-width/full-width) | Half-width / 6 |
| Interior Lamp | LED On Top / 1; LED On Side / 2 |
| Vegetable Crisper | Half-width / 2 |
| Vegetable Crisper Cover | Yes / 1 |
| Auto Icemaker | Yes |
| Convertible Drawer 5°C, 3°C, -1°C, -15°C | Yes / 1 |
| Interior Lamp | LED |
| Divider | Yes / 2 |
| Drawer | Yes / 2 |
| Interior Lamp | LED |
| Pizza Box Basket | Yes / 1 |
| Power Consumption (kWh/yr) | 660 |
| Energy Efficiency | 2.5 Stars |
| Warranty | 3 Year Warranty |