| | |
| --- | --- |
| Model: | 15149 |
| Brand: | Jura |
| Colour: | Brilliantsilver |
Jura J6 Automatic Coffee Machine 15149
360° pleasure for all the senses
The J6 is undoubtedly one of the most attractive ways of expressing good taste. The sublime all-round design is in perfect harmony with the refined materials and targeted accents. Stateof-the-art technologies ensure that the wide variety of speciality coffees always impress with their quality. The machine is easy to understand and can even be operated via Smartphone using Smart Connect, which is available as an option. Maintenance programmes and a TÜV-certified hygiene round off this premium automatic speciality coffee machine.
Top marks across the board thanks to P.E.P.® and fine foam technology
A number of top innovations ensure that both classics and trend specialities can be created with breathtaking quality: The AromaG3 grinder is now twice as fast, yet preserves all the delicious aroma of the coffee beans. The Pulse Extraction Process (P.E.P.®) ensures the optimum extraction time for a short speciality and delivers a taste explosion for the ristretto and espresso. Trend specialities finished with milk and milk foam are brought to perfection thanks to fine foam technology. Gourmets agree and award the J6 top marks for its aroma.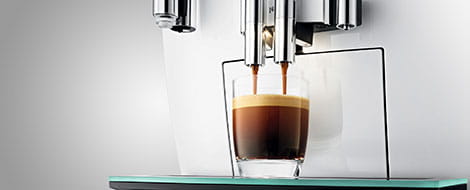 Self-explanatory operation – even by app on request
A logical structure and easy-to-understand graphics make the modern operating concept absolutely self-explanatory. The TFT display and the Rotary Selection take users straight to what they want. If they so wish, they can also control the J6 via smartphone using the JURA app.* Thanks to RFID technology, the Intelligent Water System (I.W.S.®) detects the water filter automatically. A customised inlay in the storage compartment allows an interchangeable milk spout and a milk pipe to be stowed away to save space. Both are within easy reach at all times. A separate hot-water spout, the container for milk system cleaning and the integrated maintenance programmes ensure TÜV- certified hygiene at the touch of a button.
The separately available Smart Connect Bluetooth® transmitter / receiver is necessary for this.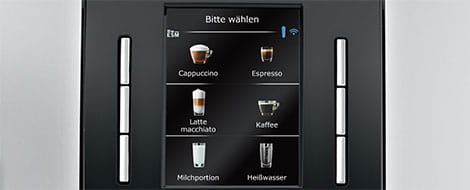 A place for everything
A totally ingenious product concept is highlighted in a love of detail. A prime example of this is the J6's redesigned storage compartment. The easy-to-remove, dishwasher-safe shaped insert provides the ideal space for an interchangeable milk spout and a milk pipe. There, they are ready to hand at any time – stored in a hygienic, tidy and space-saving manner. Perfection in practice!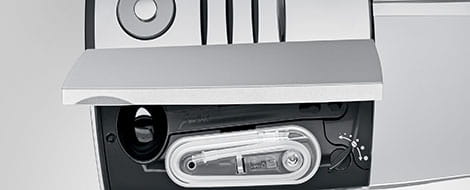 360° pleasure
Awarded a whole host of prestigious international design prizes, the J line from JURA impresses at first sight thanks to its clear, simple and symmetrical lines. In the latest version from this highly successful line, the Rotary Switch with its Blue Crystal design, glass cup grille and chrome-plated coffee spout knowingly accentuate the harmonious all-round design. In the J6, ten years of experience are combined with state-of-the-art technology. The result is an automatic coffee machine offering pleasure for all the senses: with a range of specialities of an intoxicating aroma quality, self-explanatory operation, perfect, TÜV-certified hygiene as well as exceptional design and high-quality materials processed to Swiss standards of precision.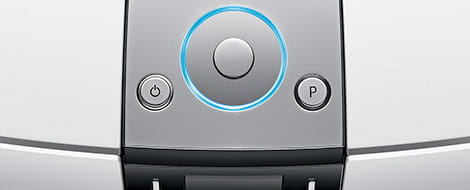 ---
Camberwell Electrics Delivery Options
Customer Service is important to us, we offer two delivery options:
Standard Delivery - (Door to Door Only)
Premium Delivery - (Deliver, Unpack, Placement, Check Product, Takeaway Rubbish)
Call one of our team on 1300 882 257 to discuss the best delivery option suitable for your location and product.
I

mportant Note About Product Specifications
Every effort is made to ensure all specifications and information within this website is correct and up to date.
Due to continuous improvements on both technical and manufacturing level this information should be regarded as indicative only.
For installation of products requiring exact measurements, a product's measurements should only be taken from the actual physical product.
NOTE: On all handmade products the measurements can vary from the manufacture's information.
Stock Availability Note: We do not have stock levels on our website. Due to carry such a large range of products, some products are supplied direct from the supplier and some are from our warehouse.
When you place your order it may be in our warehouse or we may need to source it from our suppliers.
Each order is MANUALLY processed, when you place your order, the stock availability is checked. One of our friendly Product Specialists will then call you to confirm your order and advise you as to the stock availability.
If we cannot contact you we will either leave a voicemail message or send you an email with the relevant information.
Products

1 ristretto

2 ristretti

1 espresso

2 espressi

1 coffee

2 coffees

1 cappuccino

1 espresso macchiato

1 latte macchiato

1 flat white

1 portion of milk foam

1 portion of milk

Hot water

Hot water function

3 levels

Additional preground coffee powder

Yes

Number of products

13

Awards

Swiss made

Yes

Technologies

Pulse Extraction Process (P.E.P.®)

Yes

Compatible with J.O.E®

Yes

Smart Connect supplied as standard

Yes

Variable brewing chamber

5 - 16 g

Intelligent Pre-Brew Aroma System (I.P.B.A.S.©)

Yes

I.W.S.® with filter cartridge

CLARIS Smart

Grinder type

AromaG3 grinder

Number of grinders

1

Active bean monitoring

Yes

Powder recognition for additional ground coffee variety

Yes

Thermoblock heating system

1

High-performance pump, 15 bar

15 bar

Wireless ready

Yes

JURA fine foam technology

Yes

Milk or milk foam preparation

Yes

Monitored drip tray

Yes

Settings and programming options

Programmable amount of water

Yes

Amount of water can be adjusted for each preparation

Yes

Programmable coffee strength in levels

10

Coffee strength can be adjusted for each preparation

Yes

Hot water temperature can be programmed in levels

3

Brewing temperature can be programmed in levels

3

Save, copy and personalise products

Yes

Operations

Display

TFT color display

Rotary Switch

Yes

Sustainability

Energy Save Mode (E.S.M.©)

Yes

Programmable switch-off time

Yes

Power switch

Zero-Energy Switch

Perfect maintenance at the touch of a button

Filter cartridge

CLARIS Smart

Integrated rinsing, cleaning and descaling programme

Yes

Integrated milk system cleaning programme

Yes

Automatic milk rinse

Yes

Maintenance status display

Yes

Adjustable water hardness

Yes

JURA hygiene: TÜV-certified

Yes

Spouts

Height-adjustable coffee spout

65 - 111 mm

Width-adjustable coffee spout

20 - 50 mm

Height-adjustable cappuccino spout

110 - 153 mm

Hot water spout

Yes

Height-adjustable hot water spout

110 - 153 mm

Cappuccino frother

Cappuccino frother

Design and materials

Amber cup illumination

Yes

White cup illumination

Yes

Integrated storage compartment

Yes

Sound design

Yes

Powder chute for ground coffee

Yes

In figures

Water tank capacity

2.1 L

Numbers of bean containers

1

Bean container with aroma preservation cover

Yes

Capacity per bean container

250 g

Coffee grounds container (max. servings)

16

Cable length

1.1m

Voltage

230 V ~

Ampacity

10 amp

Frequency

50 hz

Power

1450 Watt

Stand-by power

0 Watt

Energy consumption

11 watt-hour

Energy consumption with E.S.M.©

6 watt-hour

Weight

10.9 kg

Width

28.5 cm

Height

34.2 cm

Depth

43.3 cm