| | |
| --- | --- |
| Model: | 15263 |
| Brand: | Jura |
| Colour: | Black |
Z6 Automatic Coffee Machine Diamond Black by Jura
Premium enjoyment with professional technology
Full aroma thanks to the astonishingly quiet Professional Aroma Grinder, exceptional barista variety thanks to optimised fluid system and an operating concept that combines simplicity and intelligence – the new Z6 promises supreme coffee experiences.
The Professional Aroma Grinder delivers a consistently flawless grinding result, state-of-the-art brewing processes allow the coffee aromas to fully develop and trend specialities are prepared to perfection and topped with airy, feather-light milk foam thanks to fine foam technology. The Z6 impresses by offering 22 specialities at the touch of a button and its newly developed fluid system allows even long, delicious barista specialities and espresso doppio to be created in top barista quality.
Professional Aroma Grinder
12.2%* more aroma and consistently high grind quality over the entire service life are the defining features of the Professional Aroma Grinder. The perfected grinder geometry achieves the optimum grinding curve. So: A higher proportion of fine particles in the grounds guarantees that the flavours unfold to perfection.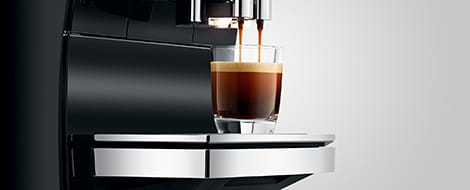 Barista specialities
The newly developed fluid system enables barista specialities of the highest quality to be prepared. Just like in the world's best coffee shops, hot water is mixed with the coffee automatically after extraction. The result is full-bodied, delicious and easy-to-digest long specialities.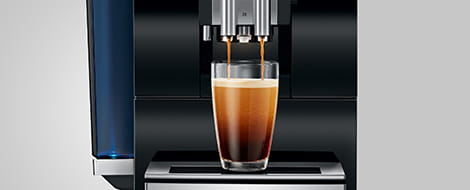 Artificial intelligence
With the Z6, artificial intelligence is finding its way into the operation of the machine. The coffee machine identifies the personal preferences of every household and adapts the start screen on the 3.5" TFT display automatically. This makes the Z6 as unique as you are and means that operating the machine is even more intuitive.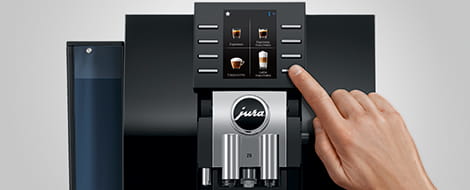 Beauty in Diamond Black
The Diamond Black design showcases the elegant beauty of the Z6 in its full glory. A high-tech two-component method provides the surfaces with an intense sense of depth, so that just looking at the coffee machine is a pleasure in itself.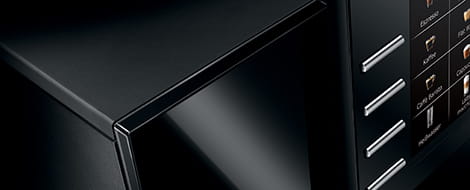 ---
Camberwell Electrics Delivery Options
Customer Service is important to us, we offer two delivery options:
Standard Delivery - (Door to Door Only)
Premium Delivery - (Deliver, Unpack, Placement, Check Product, Takeaway Rubbish)
Call one of our team on 1300 882 257 to discuss the best delivery option suitable for your location and product.
I

mportant Note About Product Specifications
Every effort is made to ensure all specifications and information within this website is correct and up to date.
Due to continuous improvements on both technical and manufacturing level this information should be regarded as indicative only.
For installation of products requiring exact measurements, a product's measurements should only be taken from the actual physical product.
NOTE: On all handmade products the measurements can vary from the manufacture's information.
Stock Availability Note: We do not have stock levels on our website. Due to carry such a large range of products, some products are supplied direct from the supplier and some are from our warehouse.
When you place your order it may be in our warehouse or we may need to source it from our suppliers.
Each order is MANUALLY processed, when you place your order, the stock availability is checked. One of our friendly Product Specialists will then call you to confirm your order and advise you as to the stock availability.
If we cannot contact you we will either leave a voicemail message or send you an email with the relevant information.
Products

1 ristretto

2 ristretti

1 espresso

2 espressi

1 coffee

2 coffees

1 cappuccino

1 caffè latte

1 Caffè Barista

2 Caffè Barista

1 Lungo Barista

2 Lungo Barista

1 Espresso doppio

1 espresso macchiato

1 latte macchiato

1 flat white

1 portion of milk foam

1 portion of milk

Pot of coffee

Hot water

hot water for green tea

Hot water for black tea

Hot water function

3 levels

Additional preground coffee powder

Yes

Number of products

22

Specific advantages

Yes

Smart mode (artificial intelligence)

Yes

Compatible with J.O.E®

Yes

Rotary Switch

Yes

Wireless ready

Yes

Smart Connect supplied as standard

Yes

Powder recognition for additional ground coffee variety

Yes

Monitored drip tray

Yes

Swiss made

Yes

JURA standards

Pulse Extraction Process (P.E.P.®)

Yes

Variable brewing chamber

5 - 16 g

Grinder

Professional Aroma Grinder

Intelligent Pre-Brew Aroma System (I.P.B.A.S.©)

Yes

Milk system

HP3

Maintenance status display

Yes

Integrated milk system rinsing and cleaning programme

Yes

Zero-Energy Switch or power switch

Zero-Energy Switch

Thermoblock heating system

1

JURA fine foam technology

Yes

Settings and programming options

Programmable and individually adjustable amount of water

Yes

Programmable and individually adjustable coffee strength

10

Save, copy and personalise products

Yes

Programmable milk / milk foam temperature

10

Programmable brewing temperature

3

Programmable amount of milk / milk foam

Yes

Programmable temperature of hot water

3

Design and materials

Two-component technology front section

Yes

Amber cup illumination

Yes

White cup illumination

Yes

Water tank illumination blue

Yes

Sound design

Yes

Powder chute for ground coffee

Yes

Operations

Display

TFT color display

Perfect maintenance at the touch of a button

Automatic milk rinse

Yes

Adjustable water hardness

Yes

Spouts

Height-adjustable coffee spout

80 - 153 mm

Width-adjustable coffee spout

21 - 50 mm

Height-adjustable cappuccino spout

80 - 153 mm

Height-adjustable dual spout

80 - 153 mm

Hot water spout

Yes

Height-adjustable hot water spout

80 - 153 mm

In figures

Water tank capacity

2.4 L

Numbers of bean containers

1

Bean container with aroma preservation cover

Yes

Capacity per bean container

280 g

Coffee grounds container (max. servings)

20

Cable length

1.1 m

Voltage

230 V ~

Ampacity

10 amp

Frequency

50 hz

Power

1450 Watt

Stand-by power

0 Watt

Energy consumption

16 watt-hour

Energy consumption with E.S.M.©

6 watt-hour

Weight

12 kg

Width

32 cm

Height

37.5 cm

Depth

45 cm