| | |
| --- | --- |
| Model: | CK43 |
| IPN: | 720544 |
| Brand: | LG |
| Colour: | Black |
| Manufacturer's Warranty: | 1 Year |
| Manufacturer's Warranty: | 300W |
LG 300W CD, Bluetooth, TV Sound Sync, Multi Jukebox Mini System
With its multiple input ports and easily-adjustable controls, the LG CK43 300W XBoom Mini Hi-Fi System with Bluetooth lets you quickly access various media sources and optimise settings to keep the house party going through exciting beats and powerful audio.
Key Features
The LG CK43 300W XBoom Mini Hi-Fi System with Bluetooth has stereo audio channels with powerful woofer and tweeter units to bring clear and immersive sound.

Equipped with a standard analogue stereo auxiliary input and 2 USB ports, the CK43 Hi-Fi system with Bluetooth can quickly open external media sources and play digital music.

Supporting up to 3 Bluetooth connections simultaneously, this Mini Hi-Fi system's Multi Jukebox function lets you wirelessly create a playlist from various connected devices on the fly for minimal playback interruptions.

This LG XBoom Mini Hi-Fi system has smooth spinning volume levels and track knobs for convenient control.

300 Watts of Power for great soundEZ File Search for easy music searchMulti Jukebox for mulitple user experience
Features:
Multiple Inputs
Great tunes can come from a variety of sources, so this speaker system comes equipped with a standard analog stereo auxiliary input as well as two USB ports, ready to accept an external source to conveniently play digital music.
EZ File Search
Easily control the volume and track with smooth spinning wheels on the front part of the horizontal main unit.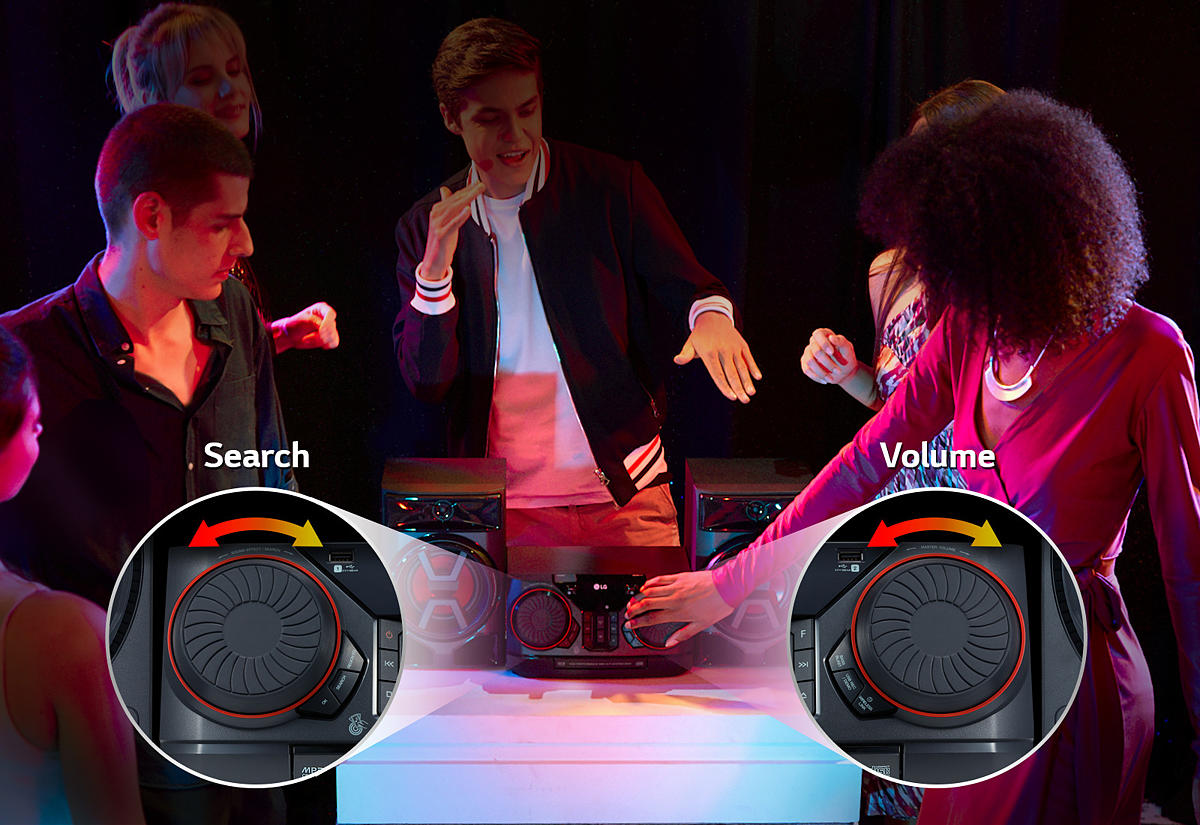 Multi Jukebox
Up to three people can connect their devices to the speaker system via bluetooth and build a playlist on the fly, without interrupting the party. Pick any available song, then just add it to the queue.
Technical Specifications
Amplifier/Speaker
Total Power Output: 300W RMS

Sound System: 2 Way

Audio Channels: Stereo

Amplifier Type: Class-D

Tweeter Unit: 1.57"

Woofer Unit: 5.25"
Sound Modes
Sound Modes: 7 (User, Pop, Classic, Rock, Jazz, Bass Blast, Football)

Region EQ: 12 (Dangdut, Arabic, Hip-Hop, India, Regueton, Merengue, Salsa, Samba, Axe, Forro, Funk, Sertanejo)
Functions
CD Player: Yes

FM Radio: Yes

USB: Yes

Sound Sync Wireless (LG TV Bluetooth): Yes

Bluetooth: Yes
Supported Decoding Formats
Bluetooth® Audio Decoding: WAV, MP3
Convenience Features
Bluetooth® Music Streaming: Yes

Built-In Wheels: Yes

MP3 player USB charging: Yes

Playback settings: Random, Repeat1, Repeat All

Voice Canceller: Yes

Key Changer: Yes

Smartphone Remote App: Music Flow Bluetooth

Bluetooth® Multi-Device Connection: Yes (Up to 3 devices simultaneously)

Bluetooth® Standyby Wakeup: Yes

Bluetooth® Jukebox: Yes

Clock/Timer: Yes

Auto DJ: Yes

Program Play: Yes (300 songs)

Vertical/Horizontal Placement: Vertical Only

Sound Sync Wireless (LG TV Bluetooth): Yes

Wireless Party Link: Yes

USB 1 to USB 2 Recording: Yes

USB Direct Recording: Yes
Connection
USB 2.0 Input: Yes (2)

Stereo RCA (AUX) Input: Yes (1)

FM Antenna: Yes
Supplied Accessories
FM Antenna: Yes

Remote Control: Yes

Batteries: Yes
Dimensions
Main Unit (WxHxD): 300mm x 163mm x 241mm

Speakers (WxHxD): 201mm x 306mm x 216mm

Carton (WxHxD): 816mm x 361mm x 247mm

Net Weight (Main Unit): 2.6kg

Net Weight (Speakers): 2.4kg (x2)

Gross Weight (Carton): 9.6kg
---
Camberwell Electrics Delivery Options
Customer Service is important to us, we offer two delivery options:
Standard Delivery - (Door to Door Only)
Premium Delivery - (Deliver, Unpack, Placement, Check Product, Takeaway Rubbish)
Call one of our team on 1300 882 257 to discuss the best delivery option suitable for your location and product.
I

mportant Note About Product Specifications
Every effort is made to ensure all specifications and information within this website is correct and up to date.
Due to continuous improvements on both technical and manufacturing level this information should be regarded as indicative only.
For installation of products requiring exact measurements, a product's measurements should only be taken from the actual physical product.
NOTE: On all handmade products the measurements can vary from the manufacture's information.
Stock Availability Note: We do not have stock levels on our website. Due to carry such a large range of products, some products are supplied direct from the supplier and some are from our warehouse.
When you place your order it may be in our warehouse or we may need to source it from our suppliers.
Each order is MANUALLY processed, when you place your order, the stock availability is checked. One of our friendly Product Specialists will then call you to confirm your order and advise you as to the stock availability.
If we cannot contact you we will either leave a voicemail message or send you an email with the relevant information.
| | |
| --- | --- |
| Model | CK43 |
| Size | 300W |
| Total Output Power | 300W RMS |
| Sound System | 2-way |
| Audio Channels | Stereo |
| Amplifier Type | Class-D |
| Tweeter Unit | 1.57" |
| Woofer Unit | 5.25" |
| Sound Modes | 7 (User, Pop, Classic, Rock, Jazz, Bass Blast, Football) |
| Region EQ | 12 (Dangdut, Arabic, Hip-Hop, India, Regueton, Merengue, Salsa, Samba, Axe, Forro, Funk, Sertanejo) |
| CD Player | Yes |
| FM Radio | Yes |
| USB | Yes |
| Sound Sync Wireless (LG TV Bluetooth) | Yes |
| Bluetooth | Yes |
| Bluetooth® Audio Decoding | WAV, MP3 |
| Bluetooth® Music Streaming | Yes |
| Built-In Wheels | Yes |
| Built-In Rechargeable Battery | - |
| MP3 player USB charging | Yes |
| Playback settings | Random, Repeat1, Repeat All |
| Voice Canceller | Yes |
| Key Changer | Yes |
| Karaoke Microphone Input | - |
| Smartphone Remote App | Music Flow Bluetooth |
| Bluetooth® Multi-Device Connection | Yes (Up to 3 devices simultaneously) |
| Bluetooth® Standby Wakeup | Yes |
| Bluetooth® Jukebox | Yes |
| Clock/Timer | Yes |
| Auto DJ | Yes |
| Program Play | Yes (300 songs) |
| LED Coloured Lighting | - |
| Vertical/Horizontal Placement | Vertical Only |
| Sound Sync Wireless (LG TV Bluetooth) | Yes |
| Wireless Party Link | Yes |
| DJ Effects | - |
| DJ Pro | - |
| DJ Loop | - |
| Sample Creator | - |
| USB 1 to USB 2 Recording | Yes |
| USB Direct Recording | Yes |
| USB 2.0 Input | Yes (2) |
| Microphone (6.5mm) Input | - |
| Stereo RCA (AUX) Input | Yes (1) |
| Stereo RCA (AUX) Output | - |
| Portable (3.5mm) Input | - |
| Digital Audio (Optical) Input | - |
| FM Antenna | Yes |
| LED Lighting Output | - |
| FM Antenna | Yes |
| Remote Control | Yes |
| Batteries | Yes |
| Simple Manual/Warranty | Yes |
| Warranty | 1 Year Warranty - Parts and Labour |