| | |
| --- | --- |
| Model: | WTG8521 |
| IPN: | 762967 |
| Brand: | LG |
| Colour: | White |
| Manufacturer's Warranty: | 2 Years |
| Manufacturer's Warranty: | 8.5kg |
| | |
| --- | --- |
| Capacity Wash: | 8.5kg |
| Energy Star Rating: | 2.5 Stars |
| Energy Use (p.a.): | 580kwh |
| Hinged On: | Top |
| Spin Speed: | 740 RPM |
| Type: | Top Load Washer |
| Water Rating: | 3 Stars |
LG 8.5KG Top Load Washer Wahing Machine
Make tedious laundry tasks a thing of the past with LG 8.5kg Top Load Washing Machine with Smart Inverter Control. Driven by a smart inverter motor, the WTG6520 operates quietly and with less vibration compared to traditional washing machines.
Key Features
Drum and pulsator rotate in opposite directions to help improve washing action

Uses 3 mini and 1 main pulsator for thorough results

Offers variable wash options to adapt to your needs

Transparent glass lid provides a clear view of what's happening during a wash cycle

Easy to use via its digital display panel and Smart Diagnosis feature
Features:
Quality Washing with Smart Inverter Control
Inverter technology controls the speed & direction of the motor to provide a quality washing experience, with increased durability and stability with low vibration - that's why you get a 10 Year Parts Warranty on the Smart Inverter Motor.¹
TurboDrum
The LG TurboDrum® mechanism is designed to rotate the drum in one direction while the pulsator directs water the opposite way. This improves the washing action, delivering a brilliant wash
No Agitator
The beauty of this LG top loader is that it has no agitator. It's inverter control motor moves the water in the tub to replicate hand washing actions.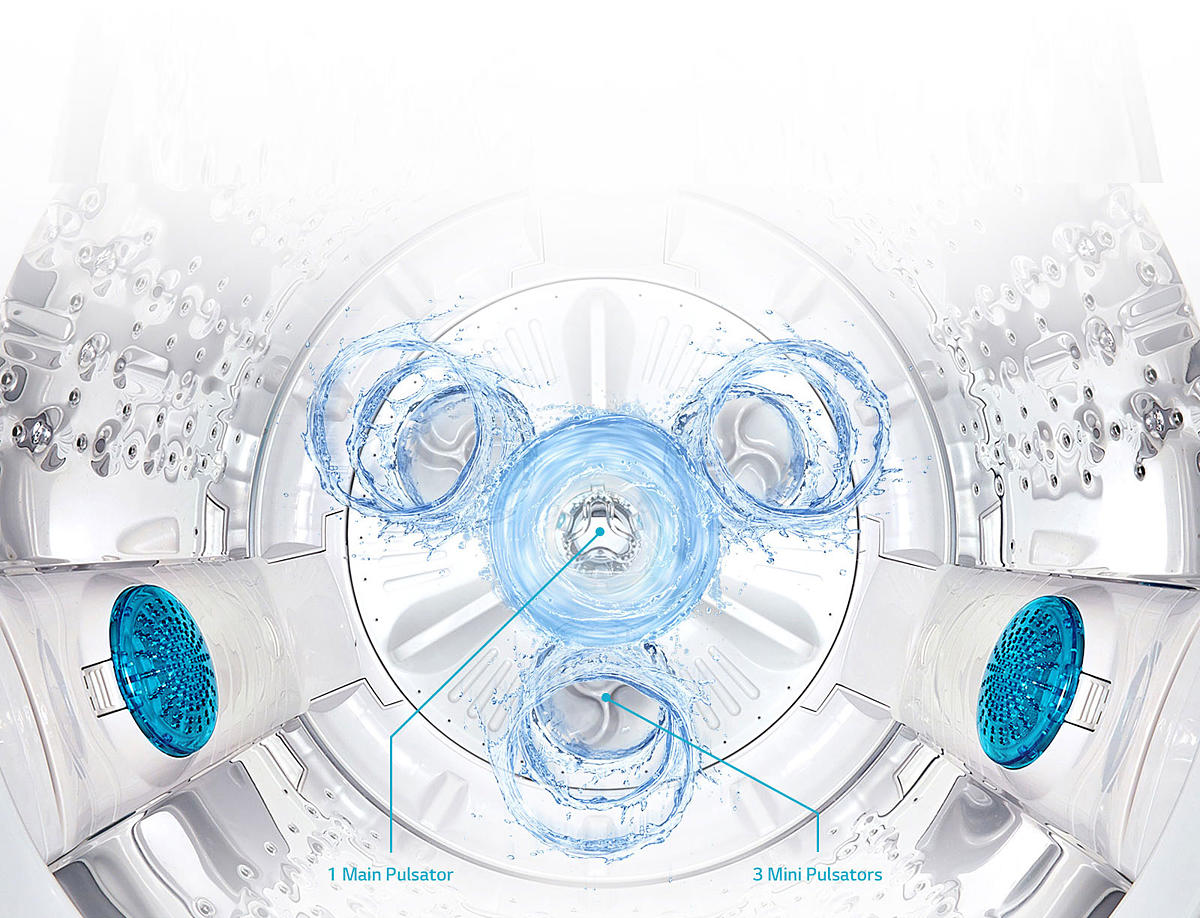 Pre-Wash for Stubborn Stains
Select the 'Pre Wash+Cotton' cycle and the machine provides extra soaking and agitating time in the wash to help remove stubborn stains.
Minimise Detergent Residue
Multiple water outlets assist with mixing and dispensing during the wash cycle for a quality wash.
Stylish, Easy Access Design
The conveniently positioned front control panel makes for easy access and the wide lid lets you keep an eye on things during the wash.
Troubleshooting with Smart Diagnosis
With a compatible smartphone & the LG ThinQ® app the washer can "talk for itself" to find a solution to help save time & money on unnecessary call outs.²
Technical Specifications:
Design
Finish: White with Black Trim

Control Type: Electronic Press Button

Control Location: Front Panel

Lid / Door Material: Tempered Glass

Soft Closing: Yes

Safety Lock: (Auto Off Only)

Digital Display: Yes

Running Time: Yes

Status: Yes
Performance
Capacity: 8.5kg

Motor Type: Smart Inverter Motor

Maximum Spin Speed: 740 RPM

Load Sensing: Yes

Logic Control: Yes

TurboDrum: Yes

No Agitator: Yes

Lint Filters: 2x Mesh Filters

Dispensers: Detergent / Softener / Bleach

Inlets: Hot & Cold
Smart Features
Programs
Programs: Cotton Wash, Pre Wash + Cotton, Eco Cotton, Wool, Quick Wash, Duvet, Silent Wash

Tub Clean: Yes

Child Lock: Yes
Options
Wash Time: Yes (6)

Water Temperature: Yes (3)

Water Level: Yes (6)

Rinses: Yes (3)

Spin Level: Yes (3)

Soil Level: Yes (Heavy, Light)

Delay Start: Yes (3-18 Hours)

Soak: Yes
Dimensions
Unit Width (mm): 632

Unit Depth (mm): 690

Unit Height (mm): 1020

Height with Lid Open (mm): 1390

Packaging (W x D x H): 700mm x 770mm x 1070mm

Unit Weight: 50.5kg
Comrpliance
EAN: 8806098412273

WELS Water Rating: 3 Star

WELS Water Consumption: 125L

Energy Consumption: 580 kWh / 365 Uses

Energy Consumption (Cold): 150 kWh / 365 Uses

Energy Rating: 2½ Star

WELS Wash Program: (Eco Cotton, Press Water Level for 3 Seconds, Hot Wash and Cold Wash)
---
Camberwell Electrics Delivery Options
Customer Service is important to us, we offer two delivery options:
Standard Delivery - (Door to Door Only)
Premium Delivery - (Deliver, Unpack, Placement, Check Product, Takeaway Rubbish)
Call one of our team on 1300 882 257 to discuss the best delivery option suitable for your location and product.
I

mportant Note About Product Specifications
Every effort is made to ensure all specifications and information within this website is correct and up to date.
Due to continuous improvements on both technical and manufacturing level this information should be regarded as indicative only.
For installation of products requiring exact measurements, a product's measurements should only be taken from the actual physical product.
NOTE: On all handmade products the measurements can vary from the manufacture's information.
Stock Availability Note: We do not have stock levels on our website. Due to carry such a large range of products, some products are supplied direct from the supplier and some are from our warehouse.
When you place your order it may be in our warehouse or we may need to source it from our suppliers.
Each order is MANUALLY processed, when you place your order, the stock availability is checked. One of our friendly Product Specialists will then call you to confirm your order and advise you as to the stock availability.
If we cannot contact you we will either leave a voicemail message or send you an email with the relevant information.
| | |
| --- | --- |
| Model | WTG8521 |
| Size | 8.5KG |
| Width | 632 |
| Height | 1020 |
| Depth | 690 |
| Finish | White with Black Trim |
| Control Type | Electronic Press Button |
| Control Location | Front Panel |
| Lid / Door Material | Tempered Glass |
| Soft Closing | Yes |
| Safety Lock | Yes(Auto Off Only) |
| Digital Display | Yes |
| Running Time | Yes |
| Status | Yes |
| Capacity | 8.5kg |
| Motor Type | Smart Inverter Motor |
| Maximum Spin Speed | 740 RPM |
| Load Sensing | Yes |
| Logic Control | Yes |
| TurboDrum® | Yes |
| No Agitator | Yes |
| Lint Filters | 2x Mesh Filters |
| Dispensers | Detergent / Softener / Bleach |
| Inlets | Hot & Cold |
| Smart Diagnosis® | Yes |
| Programs | Cotton Wash, Pre Wash + Cotton, Eco Cotton, Wool, Quick Wash, Duvet, Silent Wash |
| Tub Clean | Yes |
| Child Lock | Yes |
| Wash Time | Yes (6) |
| Water Temperature | Yes (3) |
| Water Level | Yes (6) |
| Rinses | Yes (3) |
| Spin Level | Yes (3) |
| Soil Level | Yes (Heavy, Light) |
| Delay Start | Yes (3-18 Hours) |
| Soak | Yes |
| WELS Water Rating | 3 Star |
| WELS Water Consumption | 125L |
| Energy Consumption | 580 kWh / 365 Uses |
| Energy Consumption (Cold) | 150 kWh / 365 Uses |
| Energy Rating | 2½ Star |
| WELS Wash Program | Yes(Eco Cotton, Press Water Level for 3 Seconds, Hot Wash and Cold Wash) |
| Weight (kg) | 50.5 |
| Warranty | 2 years parts and labour + 8 years on Smart Inverter Motor (parts only) |