| | |
| --- | --- |
| Model: | WV9-1408W |
| IPN: | 802160 |
| Brand: | LG |
| Colour: | White |
| Manufacturer's Warranty: | 2 Years |
| Manufacturer's Warranty: | 8KG |
| | |
| --- | --- |
| Capacity Wash: | 8kg |
| Energy Star Rating: | 4.5 Stars |
| Energy Use (p.a.): | 263kwh |
| Hinged On: | Left Hand |
| Spin Speed: | 1400rpm |
| Type: | Front Load Washer |
| Water Rating: | 4.5 Stars |
LG 8KG Front Load Washer Washing Machine with Steam
With its powerful Direct Drive motor, spacious drum, and cutting-edge washing technology, the LG Series 9 8kg Front Load Washing Machine with Steam+ is a practical option for completing your laundry setup. Built with a TurboClean 360 option, it can also wash a half-load of lightly soiled clothes in approx. 39 minutes, rinsing each item through 4 water jets.
Key Features
Incorporates Artificial Intelligence Direct Drive technology to quickly assess the current laundry load and select the optimum wash motion and minimise clothing wear*

Utilises a suite of 6 handwashing-based motions for a thorough and gentle wash

Allergy Care and Steam+ cycles help open fibres on clothes and other items to remove allergens

Rugged and durable, thanks to its tempered glass door front and stainless steel internal clothing lifters

Integrated Smart ThinQ technology provides support for remote monitoring and control via Google Assistant

Intelligent Clothing Care with AI Technology39 minute wash with TurboClean 360

Reduce Allergens with Steam Cycles

Outstanding Wash with 6 Motion Wash Technology

Remotely Start and Monitor Wash Progress with ThinQ
Features:
AI Direct Drive - Intelligent Fabric Care
LG front load washers with AI Direct Drive technology can weigh the load and assess fabric softness to automatically select the optimal wash motions for thorough cleaning and clothing care.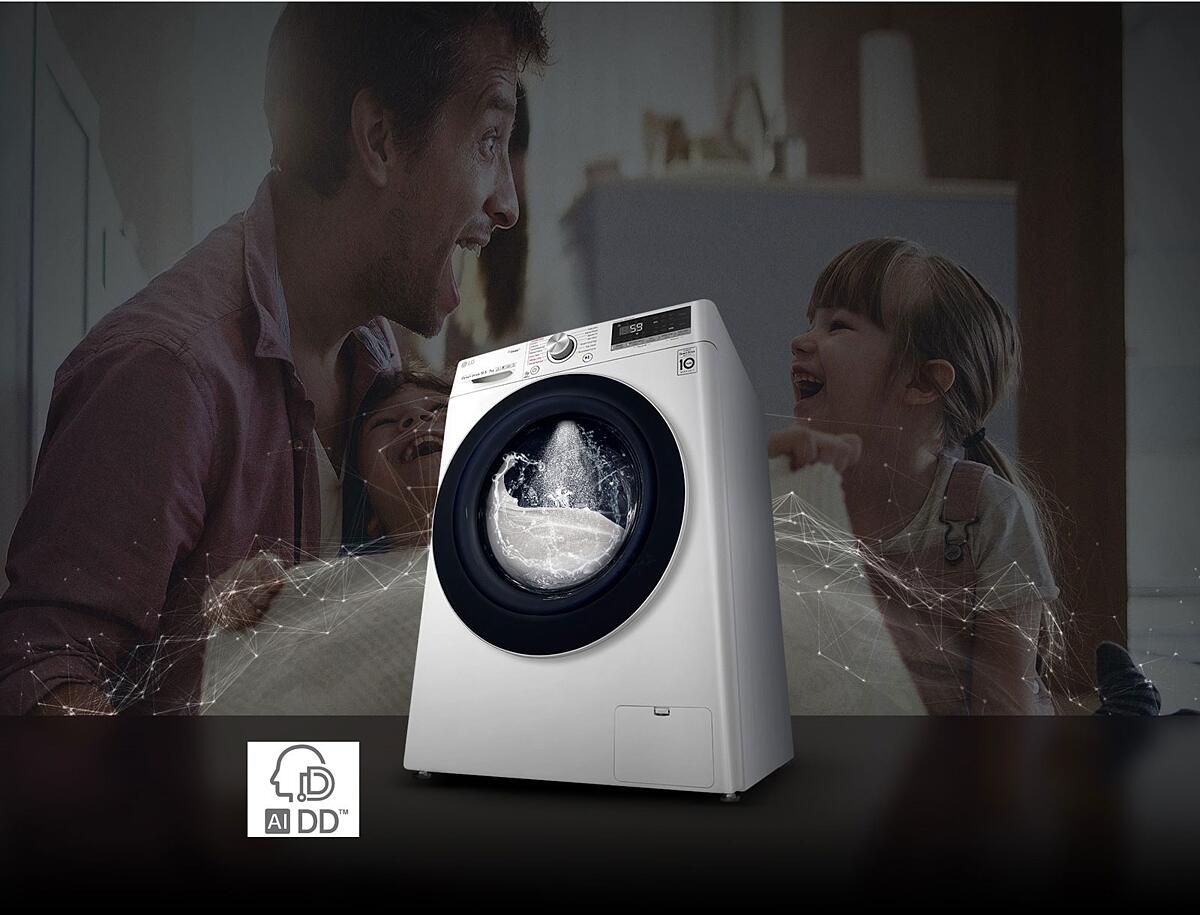 What is AI DD?
AI DD™ refers to 'Artificial Intelligence' technology that has been applied to control the machines washing motions via the Direct Drive Motor.
By using AI technology and referencing a database of wash motions the machine assesses the load characteristics and selects the best option for a thorough clean with reduced clothing wear*.
TurboClean™360˚
With 4 water jets operating during the wash and rinse, this machine can wash a half load of lightly soiled clothes in only 39 minutes.
Outstanding Performance with 6 Motion Direct Drive
LG washers use a combination of 6 motions, based on hand-washing, to wash your clothes. Simply choose a cycle and your machine selects the best combination of washing motions to give you an outstanding wash, whilst also caring for your clothes.
Stepping: Releases clothes at the peak of the rotation cycle which helps loosen laundry and reduce tangles.

Tumbling:

Regular tumbling for your everyday washing needs.

Scrubbing:

Quickly alternates creating a scrubbing motion. Helps dissolve detergents & remove stubborn stains.

Filtration:

Force from the fast rotation distributes the water evenly onto laundry for a full & even saturation.

Rolling:

Clothes are rolled gently under water for a delicate wash.
Swing: The drum gently swings clothes from one direction to the other. Ideal for those delicate items.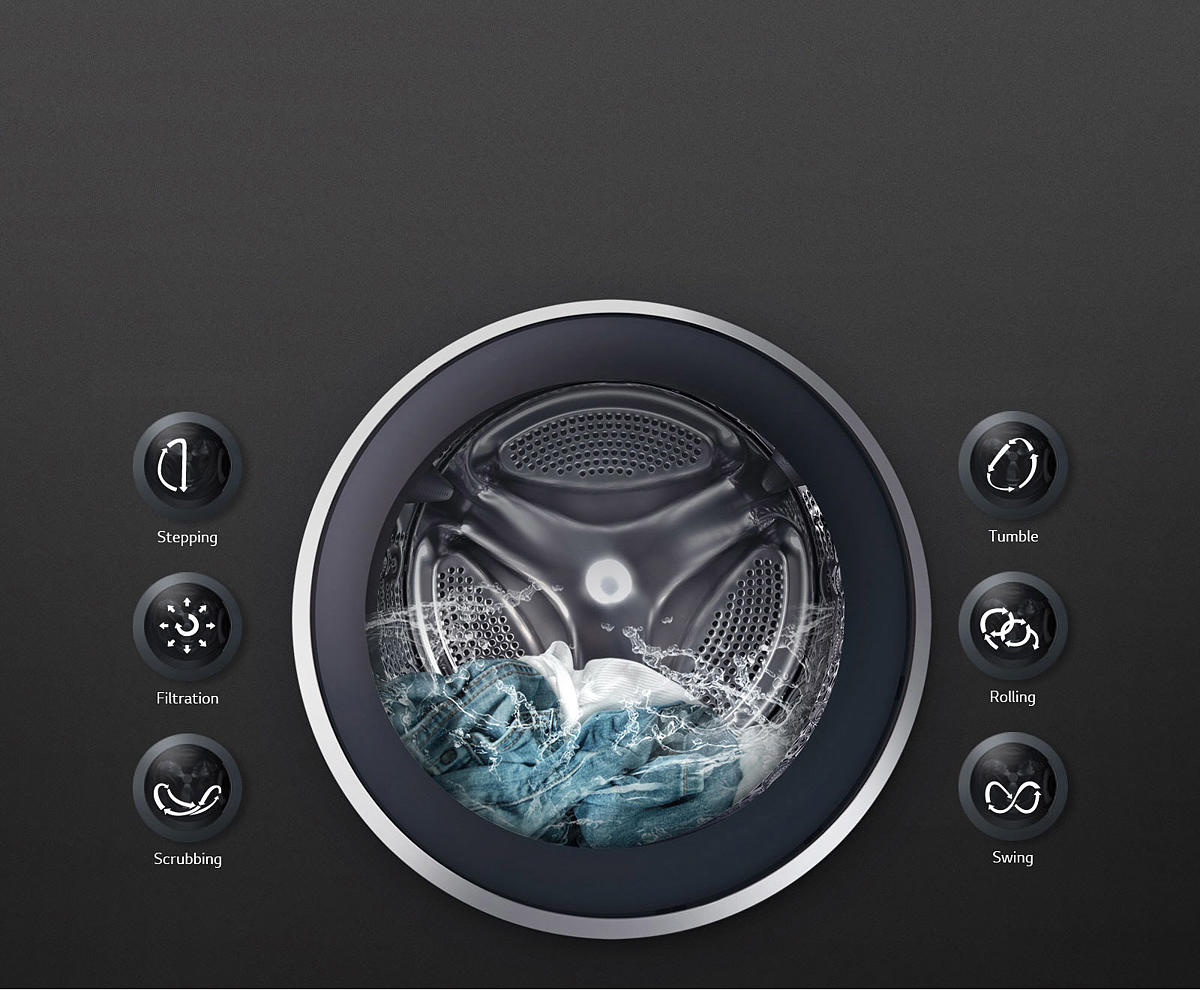 Allergy Care and Steam+ Cycles
With a press of a button, add steam to selected cycles to open up fibres and assist in removal of common household allergens.
Designed for Durability
The tempered glass door front and stainless steel internal clothing lifters are two examples of the thought and quality materials built into this LG washer.
Pause and Add Item
The LG front load washer lets you 'Pause' the wash cycle to 'Add Items'. Simply press the 'Add Item' or hold the 'Start/Pause' button for 3 seconds so extra items of missed clothing can be included in the wash up until the spin cycle.*
*Door will remain locked if water temperature is above 40°C or the water level is high.
Inverter Direct Drive Motor
The LG direct drive motor with inverter control delivers a reliable, quiet and durable mechanism with less moving parts than the traditional belt and pulley system - that's why you get a 10 Year Parts Warranty on the LG Direct Drive Motor.
TwinWash Compatible
This front load washer, when combined with the TWINWash® Mini, forms the LG TWINWash® system*. Ideal for washing two loads at the same time.
ThinQ®
ThinQ® technology incorporates intelligent features with this front load washer that let you remotely start or monitor your wash progress. You can also track wash cycle history, diagnose and troubleshoot issues and download additional wash cycles.
Technical Specifications:
Design
Finish: White

Control Type: Electronic Press Button

Lid / Door Material: Tempered Glass

Tinted Glass: Yes

Safety Lock: Yes

Trim Colour: Chrome

Digital Display: Yes

Running Time: Yes

Status: Yes

LG TWIN Wash Compatible: Yes
Performance
Capacity: 8kg

Motor Type: Inverter Direct-Drive Motor

Maximum Spin Speed: 1400 RPM

Load Sensing: Yes

Turbo Clean™: Yes (Turbo Clean 360®)

A.I. Direct-Drive™: Yes

Steam: Yes (Steam+)

Stainless Steel Tub: Yes

Stainless Steel Lifters: Yes

Dispensers: Detergent / Softener / Bleach

Inlets: Hot & Cold

Auto-Balance: Yes
Smart Features
Smart Diagnosis™: Yes

ThinQ®: Yes (Wi-Fi)

Functions: Status View, Remote Start, Download Cycle, Notifications, Energy Monitoring, Works with Google Assistant²
Programs
Programs: Cotton, Cotton Eco, Mixed Fabric, Easy Care, Quiet Wash, Allergy Care, Delicates, Hand/Wool, Sportswear, Duvet

Quick Wash: Quick 14 (2kg), TurboClean 39 (4kg)

Download Cycle¹: Yes

Tub Clean: Yes

Child Lock: Yes
Options
Variable Spin Speeds: 1400, 1200, 1000, 800, 400, No Spin

Variable Temperature (°C): 95, 60, 40, 30, 20, Cold

Add Item: Yes

Delay Start: Yes (3-19 Hours)

Steam: Yes

Wrinkle Care: Yes

Turbo Clean™: Yes

Rinse Option: Yes (Rinse+)

Pre Wash: Yes

Intensive: Yes
Dimensions
Unit Width (mm): 600

Unit Depth (mm): 605

Unit Height (mm): 850

Packaging (W x D x H): 660mm x 660mm x 890mm

Unit Weight: 70kg
Compliance
EAN: 8806098523702

Energy Consumption: 263 kWh / 365 Uses

Energy Rating: 4½ Star

WELS Water Consumption: 68L

WELS Water Rating: 4½ Star

WELS Wash Program: (Cotton Eco, 40°C, 1400 Spin)
---
Camberwell Electrics Delivery Options
Customer Service is important to us, we offer two delivery options:
Standard Delivery - (Door to Door Only)
Premium Delivery - (Deliver, Unpack, Placement, Check Product, Takeaway Rubbish)
Call one of our team on 1300 882 257 to discuss the best delivery option suitable for your location and product.
I

mportant Note About Product Specifications
Every effort is made to ensure all specifications and information within this website is correct and up to date.
Due to continuous improvements on both technical and manufacturing level this information should be regarded as indicative only.
For installation of products requiring exact measurements, a product's measurements should only be taken from the actual physical product.
NOTE: On all handmade products the measurements can vary from the manufacture's information.
Stock Availability Note: We do not have stock levels on our website. Due to carry such a large range of products, some products are supplied direct from the supplier and some are from our warehouse.
When you place your order it may be in our warehouse or we may need to source it from our suppliers.
Each order is MANUALLY processed, when you place your order, the stock availability is checked. One of our friendly Product Specialists will then call you to confirm your order and advise you as to the stock availability.
If we cannot contact you we will either leave a voicemail message or send you an email with the relevant information.
| | |
| --- | --- |
| Model | WV9-1408W |
| Size | ALL |
| Width | 600 |
| Height | 850 |
| Depth | 605 |
| Finish | White |
| Control Type | Electronic Press Button |
| Material | Tempered Glass |
| Tinted Glass | Yes |
| Safety Lock | Yes |
| Trim Colour | Chrome |
| Digital Display | Yes |
| Running Time | Yes |
| Status | Yes |
| Drum Light | - |
| LG TWIN Wash® Compatible | Yes |
| Capacity | 8kg Pre Wash |
| Dry Capacity | - |
| Motor Type | Inverter Direct-Drive Motor |
| Maximum Spin Speed | 1400RPM |
| Load Sensing | Yes |
| Turbo Clean™ | Yes (Turbo Clean 360®) |
| 6 Motion® Wash | Yes |
| A.I. Direct-Drive™ | Yes (Cotton, Cotton Eco, Mixed Fabric) |
| Steam | Yes (Steam+) |
| Stainless Steel Tub | Yes |
| Stainless Steel Lifters | Yes |
| Dispensers | Detergent / Softener / Pre-Wash |
| Inlets | Hot & Cold |
| Auto-Balance | Yes |
| Smart Diagnosis™ | Yes |
| Smart THINQ® | Yes (Wi-Fi) |
| Functions | Status View, Remote Start, Download Cycle, Notifications, Energy Monitoring, Works with Google Assistant |
| Programs | Cotton, Cotton Eco, Mixed Fabric, Easy Care, Quiet Wash, Allergy Care, Delicates, Hand/Wool, Sportswear, Duvet |
| Quick Wash | Quick 14 (2kg), TurboClean 39 (4kg) |
| Download Cycle | Yes |
| Tub Clean | Yes |
| Child Lock | Yes |
| Variable Spin Speeds | 1400, 1200, 1000, 800, 400, No Spin |
| Variable Temperature (°C) | 95, 60, 40, 30, 20, Cold |
| Add Item | Yes |
| Delay Start | Yes (3-19 Hours) |
| Steam | Yes |
| Wrinkle Care | Yes |
| Turbo Clean™ | Yes |
| Rinse Option | Yes (Rinse+) |
| Pre Wash | Yes |
| Intensive | Yes |
| Energy Consumption | 263 kWh / 365 Uses |
| Energy Rating | 4½ Star |
| WELS Water Consumption | 68L |
| WELS Water Rating | 4½ Star (Cotton Eco, 40°C, 1400 Spin) |
| Weight (kg) | 70 |
| Warranty | 2 Year Warranty |