| | |
| --- | --- |
| Model: | MS4296OSS |
| IPN: | 663885 |
| Brand: | LG |
| Colour: | Stainless Steel |
| Manufacturer's Warranty: | 2 Years |
| | |
| --- | --- |
| Power kW: | 1200 W |
| Turntable Diameter: | 360mm |
| Volume: | 42 L |
NeoChef 42L Smart Inverter Microwave Oven by LG
Sleek Minimalist Design
A single piece of tempered glass on the front door creates a modern, stylish appearance.
Fast Cooking

Reduce cooking and reheating time with up to 1200W of power, compared to a 1000W LG conventional microwave oven.
Anti-Bacterial Coating
The Anti-Bacterial EasyClean™ interior coating makes cleaning simple and convenient. Just a few wipes are all it takes to clean the microwave interior. The coating eliminates 99.99 percent* of harmful bacteria from the surface.
Stable Turntable
The hexagonal ring stabilises the turntable with six support points, which helps prevent off-centre items from tipping and spilling during cooking.
Even Defrosting
The Inverter technology in the LG NeoChef™ enables more precise temperature control to help defrost foods and avoid overcooked and unthawed areas.
Even Heating
LG Inverter technology enables a more even distribution of heat throughout foods with more precise temperature control. Delivering a satisfying dining experience.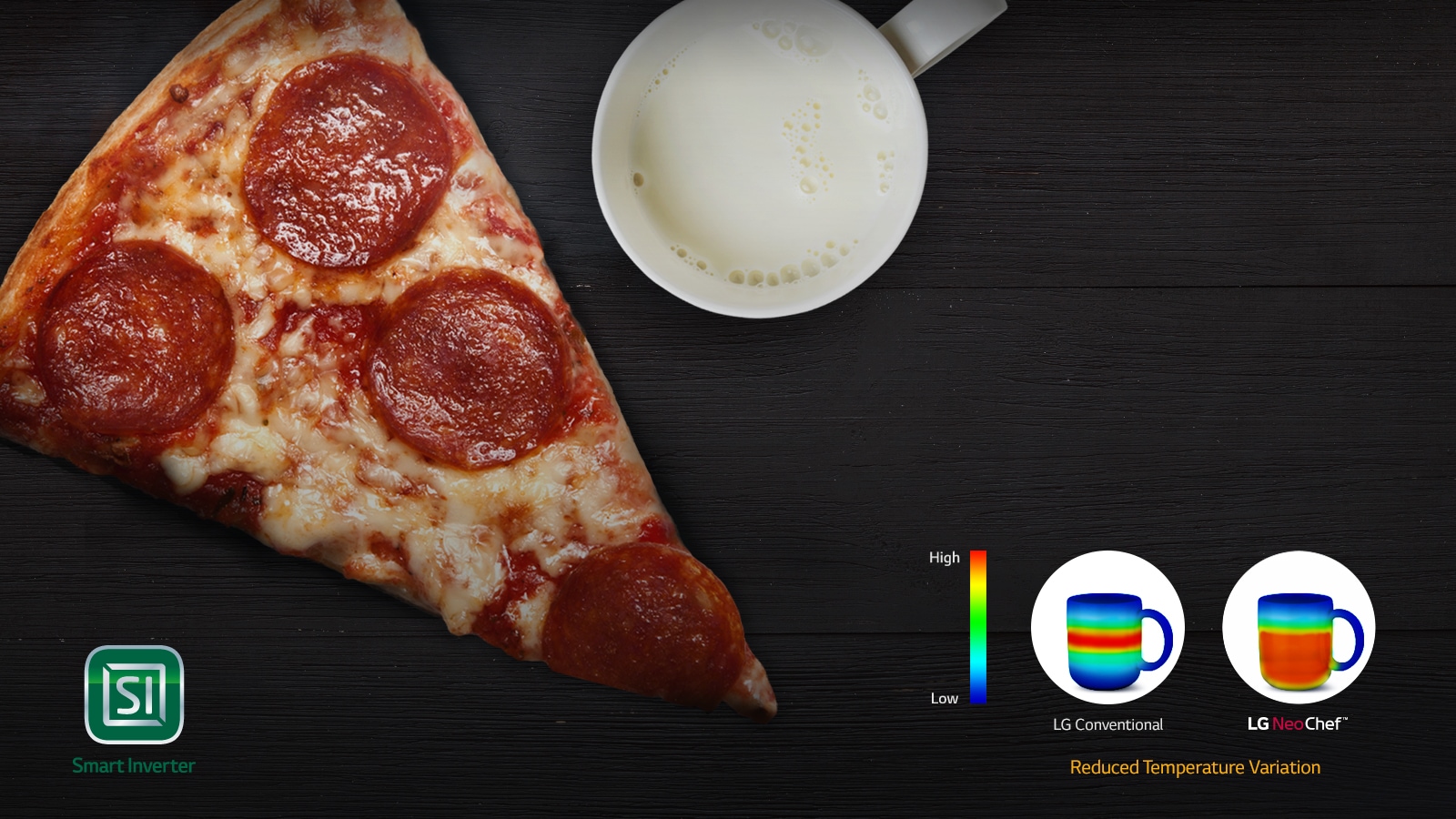 Versatile Cooking
With just one appliance you can warm, defrost and cook. From delicately proofing yogurt to popping your corn, the LG Inverter microwave is a versatile cooking solution.
Bright Internal Lighting
The interior white LED lamp on the NeoChef™ oven is 3 times brighter and more energy efficient than the incandescent light on other LG microwave ovens.
Smaller outside.

The new generation of LG NeoChef™ microwave ovens have smaller overall exterior dimensions than their LG predecessors. The more compact size means they can fit into smaller spaces.
---
Camberwell Electrics Delivery Options
Customer Service is important to us, we offer two delivery options:
Standard Delivery - (Door to Door Only)
Premium Delivery - (Deliver, Unpack, Placement, Check Product, Takeaway Rubbish)
Call one of our team on 1300 882 257 to discuss the best delivery option suitable for your location and product.
I

mportant Note About Product Specifications
Every effort is made to ensure all specifications and information within this website is correct and up to date.
Due to continuous improvements on both technical and manufacturing level this information should be regarded as indicative only.
For installation of products requiring exact measurements, a product's measurements should only be taken from the actual physical product.
NOTE: On all handmade products the measurements can vary from the manufacture's information.
| | |
| --- | --- |
| | |
| Overall Volume | 42L |
| Microwave Power | 1200W |
| | |
| Colour / Finish | Stainless |
| | |
| Product (Width x Depth x Height) | 540mm x 434mm x 310mm |
| Packaging (W x D x H) | 610mm x 490mm x 335mm |
| Weight | 11.3kg |
| Turntable Size | 360mm |
| | |
| Child Safety Lock | Yes |
| Quick Start Button | Yes |
| Door Type | Side Swing |
| Controller Type | Glass Touch |
| | |
| Interior Type | Grey |
| Number of Power Levels (Microwave) | 10 |
| Turntable Type | Glass |
| EasyClean™ Coating | Yes |
| I-wave | Yes |
| Auto Sensor Cooking | Yes |
| Smart Inverter | Yes |
| | |
| Inverter Defrost | 4 Menus (Meat, Poultry, Fish, Bread) |
| Proof | 1 Menu (Yogurt) |
| Melt | 3 Menus (Butter, Cheese, Chocolate) |
| Soften | 3 Menus (Butter, Cream Cheese, Ice Cream) |
| Popular Menu | 8 Menus |
| Reheat | 8 Menus |
| Sensor Cook | 8 Menus |
| | |
| Warranty Period | 2 Years Parts and Labour + 8 Years on Magnetron (Parts Only) |
| | |
| EAN | 8806087857498 |