| | |
| --- | --- |
| Model: | WS18TWN |
| IPN: | 473473000799 |
| Brand: | LG |
| Colour: | White |
| | |
| --- | --- |
| Air Purification: | N/A |
| Cooling kW: | 4.0-4.9kW |
| Energy Star Rating: | 3.5 Stars |
| Heating kW: | 5.9kW |
| Type: | Air Conditioner |
LG Smart Series 5.0kW Reverse Cycle Split System
Key Features
Built in Wi-Fi so you can control your Air Conditioner remotely

Control your energy usage with Active Energy Control on the LG ThinQ® app

Delegate tasks or ask your Air Conditioner questions with Google Assistant

10 Year Compressor Parts Warranty for peace of mind

Features:
Home Connectivity
The LG WS Split System range is compatible with Google Assistant. You can now delegate tasks or ask your LG Air Conditioner questions via the Google Assistant App or compatible speaker.
Supported Google Assistant commands include 'OK Google, turn on the air conditioner' or 'OK Google, what's the temperature of the air conditioner?'
Built-in Wi-Fi Smart Control
The LG ThinQ® app lets you access and control your air conditioner with your smartphone* even when you're not at home.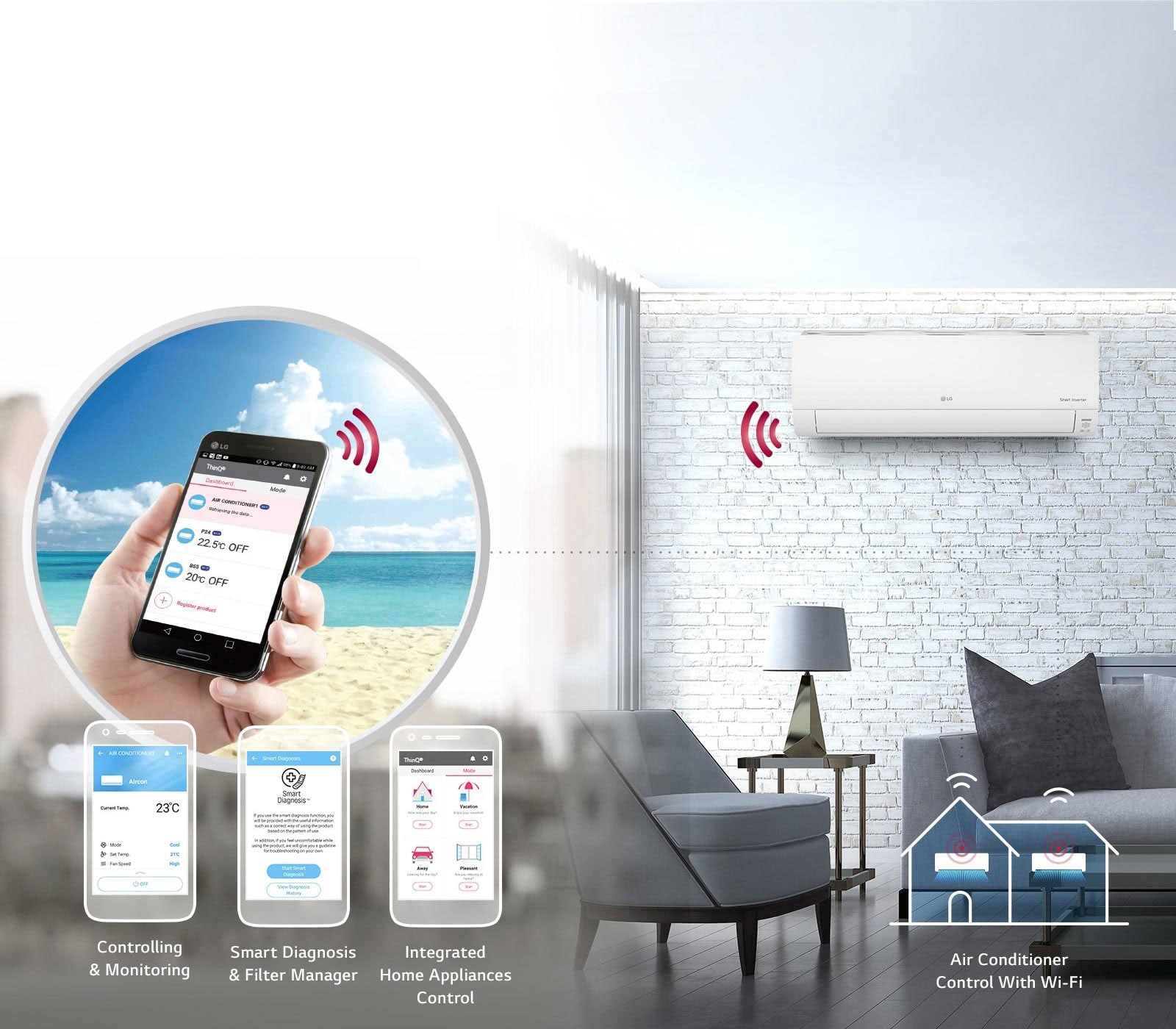 View your real time energy usage
A simple push of the remote control button allows you to conveniently view current energy usage on your air conditioner's panel.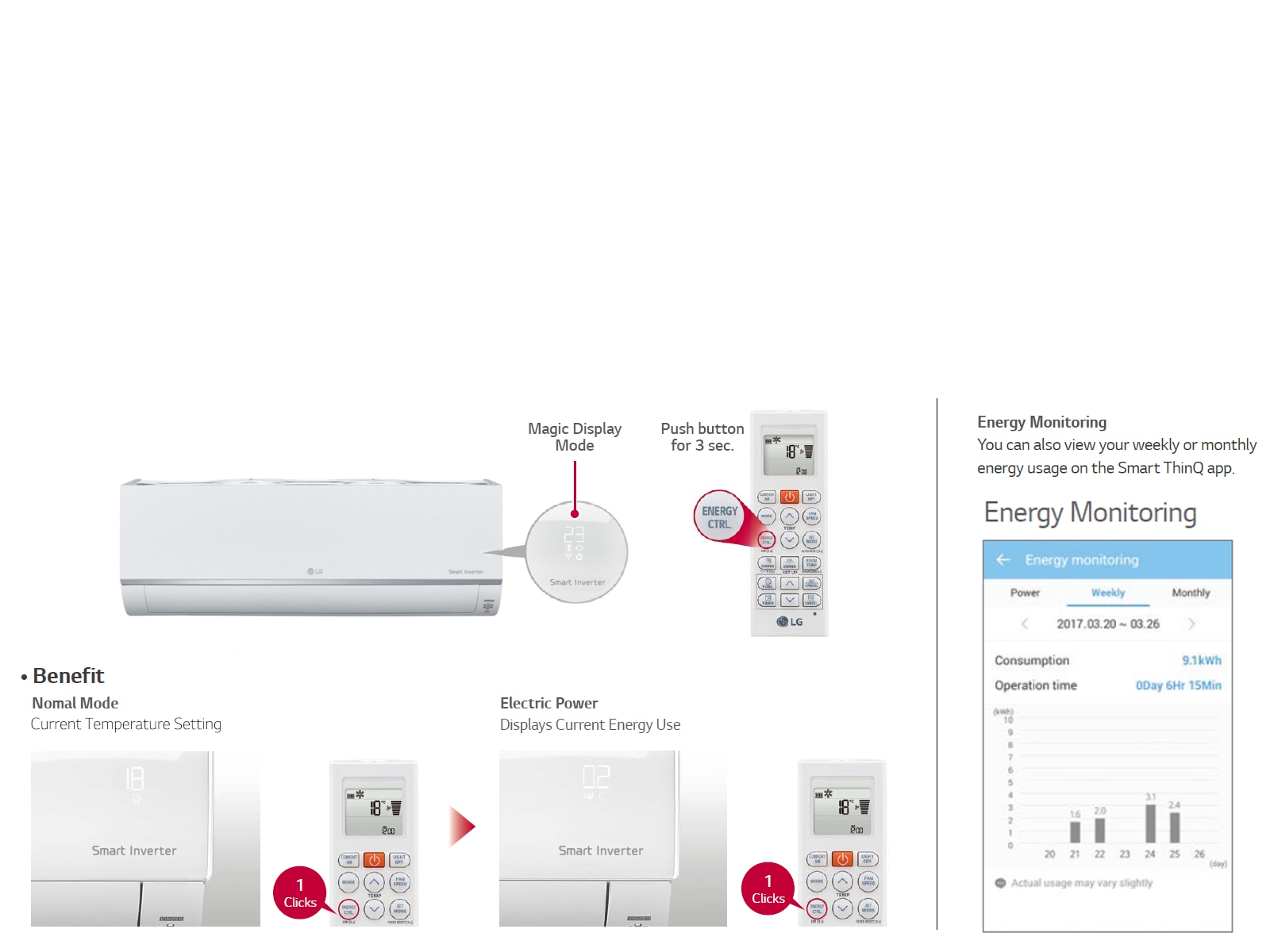 Information at your fingertips
Smart Diagnosis provides usage tips and useful information based on your product usage patterns. If you experience a problem whilst using the product, we will help you to troubleshoot it using the Smart Diagnosis results.
Take tighter control of your energy usage
Active Energy Control allows the user to adjust the energy levels to improve cooling efficiency and help reduce power consumption.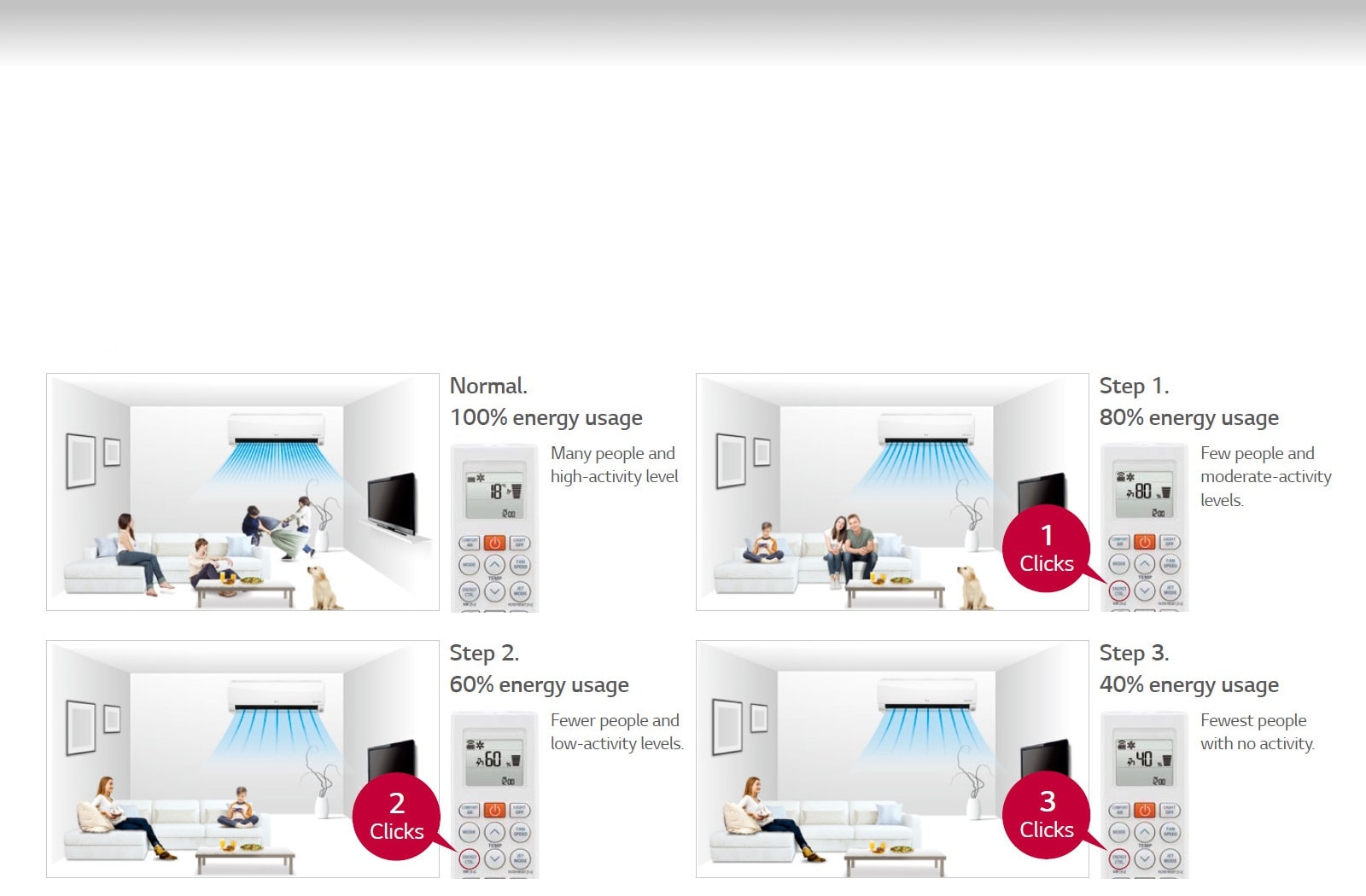 Temperature Control
The Compressor speed of the LG Dual Inverter Compressor™ is constantly adjusted and varied to maintain the desired temperature with less fluctuation than a non-inverter compressor.
Sleep Easy
LG air conditioners operate at low sound levels, thanks to LG's unique skew fan and Dual Inverter Compressor™ which eliminate unnecessary noise and allows for smooth operation.
Cool in the summer, warm in winter
The 'Comfort Air' option conveniently sets an AC's louvers to a preset position so that outflowing air is directed away from a room's occupants.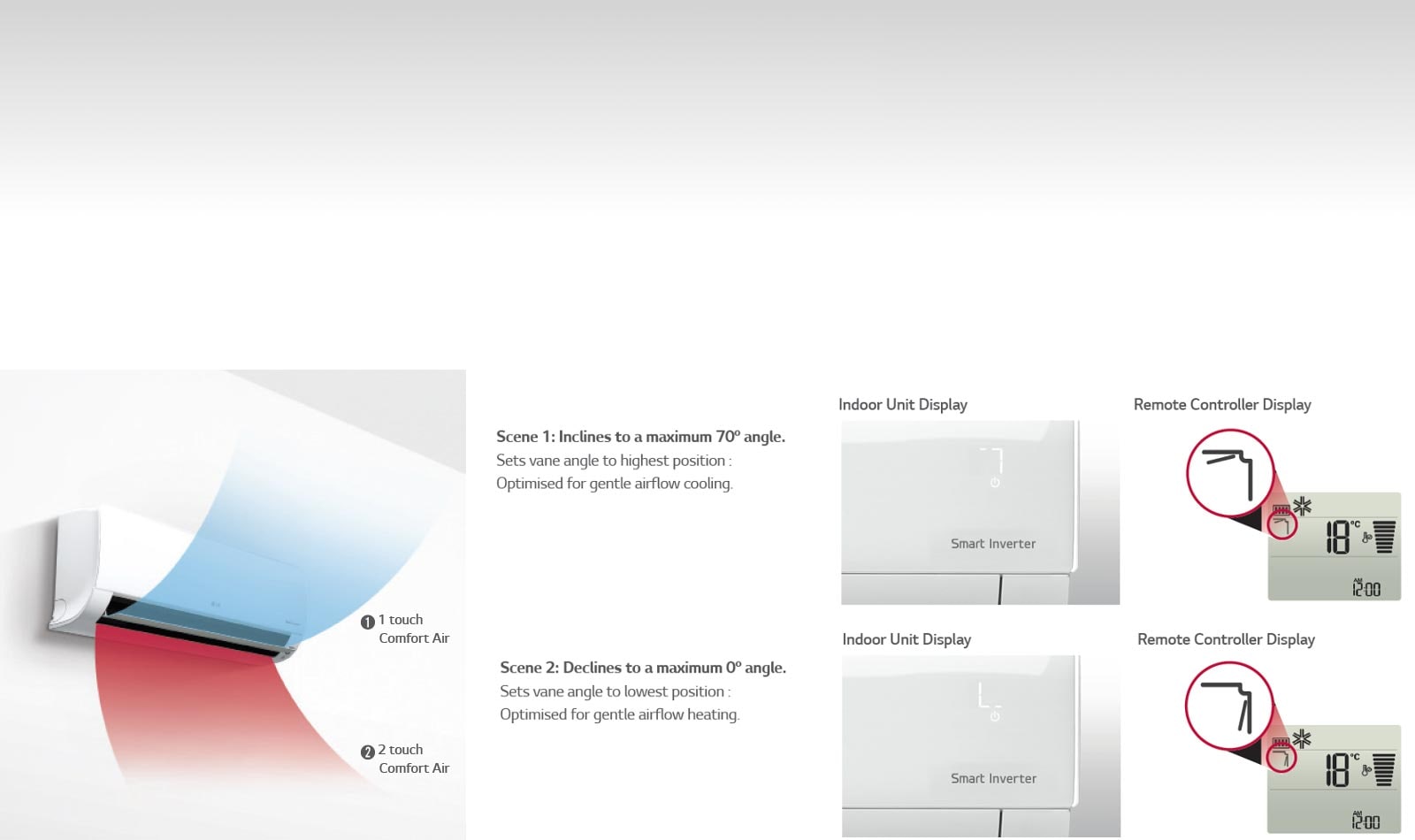 Smart Inverter Compressor™
The LG Smart Inverter Compressor™ is designed to cope with high temperatures, so great for those hot Australian conditions. With the 10 year compressor parts warranty, you have the peace of mind that you can come home to comfort for years to come.
---
Camberwell Electrics Delivery Options
Customer Service is important to us, we offer two delivery options:
Standard Delivery - (Door to Door Only)
Premium Delivery - (Deliver, Unpack, Placement, Check Product, Takeaway Rubbish)
Call one of our team on 1300 882 257 to discuss the best delivery option suitable for your location and product.
I

mportant Note About Product Specifications
Every effort is made to ensure all specifications and information within this website is correct and up to date.
Due to continuous improvements on both technical and manufacturing level this information should be regarded as indicative only.
For installation of products requiring exact measurements, a product's measurements should only be taken from the actual physical product.
NOTE: On all handmade products the measurements can vary from the manufacture's information.
Stock Availability Note: We do not have stock levels on our website. Due to carry such a large range of products, some products are supplied direct from the supplier and some are from our warehouse.
When you place your order it may be in our warehouse or we may need to source it from our suppliers.
Each order is MANUALLY processed, when you place your order, the stock availability is checked. One of our friendly Product Specialists will then call you to confirm your order and advise you as to the stock availability.
If we cannot contact you we will either leave a voicemail message or send you an email with the relevant information.
| | |
| --- | --- |
| PERFORMANCE | |
| Cooling Capacity (Rating) | 4.8kW |
| Heating Capacity (Rating) | 5.9kW |
| Cooling Capacity Range (min ~ max) | 0.9 ~ 5.5 |
| Heating Capacity Range (min ~ max) | 0.9 ~ 6.4 |
| Power Input | |
| Cooling | 1,460kW |
| Heating | 1,675kW |
| Rated Running Current | |
| Cooling | 6.5A |
| Heating | 7.4A |
| EER Cooling | 3.28 W/W |
| AEER Cooling | 3.27 W/W |
| COP Heating | 3.52 W/W |
| ACOP Heating | 3.50 W/W |
| Air Flow Rate (Indoor, Max/H/M/L) | |
| Cooling | 258/242/217/175 |
| Heating | 308/267/225/183 |
| Indoor Noise (dB(A) ± 3) (Sound Pressure Level¹) (H/M/L/S) | 49/44/39/34/31 |
| Outdoor Noise (dB(A) ± 3) (Sound Pressure Level¹) (H/M/L/S) | |
| Cooling | 53 |
| Heating | 55 |
| Moisture Removal (l/h) | 1.8 |
| TECHNICAL | |
| Refrigerant Charge | 1000g |
| Refrigerant Type | R32 |
| Pre-Charge Lenth | 7.5m |
| Pipe Run (Min / Max) | 3m/20m |
| Max. Elevation Distance | 10m |
| Piping Connection Heat Insulation | Both liquid and gas pipes |
| Circuit Breaker Size | 20 Amps |
| Additional Refrigerant (g/meter) | 20 |
| Refrigerant Control | Electronic Expansion Valve |
| Outdoor Operating Range (? DB) | |
| Cooling | 15 ~ 48°C |
| Heating | 10 ~ 24°C |
| Outdoor Operating Range (? WB) | |
| Heating | 10 ~ 18° |
| Pipe Size Connection (Ø) | |
| Liquid | 6.35mm (1/4 inch) |
| Gas | 12.7mm (1/2 inch) |
| Drain Hose Size (O.D/I.D) | 20mm/15mm |
| Pipe Connection Method (Indoor/Outdoor) | Flared/Flared |
| Outdoor Sound Power Level² (SWL) | 65 dB(A) |
| Outdoor Compressor | Twin Rotary |
| Outdoor Condenser | Gold |
| ENERGY CONSUMPTION | |
| Energy Rating (Heating) | 2.5 STAR |
| Energy Rating (Cooling) | 2.0 STAR |
| Power Supply | 1Ph, 220~240V, 50Hz |
| Power Supply Cable | 3 Core + Earth |
| Power Supply to Unit | Outdoor |
| Power and Communication Cable | 4 x 1.0 ( Including Earth) |
| DIMENSIONS | |
| Indoor (WxHxD) | 998 x 345 x 210 mm |
| Outdoor (WxHxD) | 770 x 545 x 288 mm |
| Indoor (Weight) | 11.9kg |
| Outdoor (Weight) | 34.4kg |