| | |
| --- | --- |
| Model: | C17KS61N0 |
| Brand: | NEFF |
| Colour: | Stainless Steel |
| Manufacturer's Warranty: | 4 Years |
Black Built-in Automatic Coffee Machine by NEFF
Built-in coffee center with OneTouchFunction - for a great variety of coffee specialities at the touch of a button.
HIGHLIGHTS
OneTouch function: Any coffee or milk speciality at the touch of a button - even two cups at the same time

MyCoffee: Save 8 favourite beverages with all their settings under personal names

AromaDoubleShot: Extra-strong coffee with less bitterness thanks to two grinding and brewing processes

AutoMilkClean: A fully-automatic steam cleaning after every beverage takes complete care of the daily cleaning of the milk system
FLAVOUR
Innovative SensoFlow heating system - Fast first cup

AromaPressureSystem: Ideal contact pressure for optimal aroma extraction

One-touch preparation: Ristretto, Espresso, Espresso Macchiato, Coffee, Cappuccino, Latte Macchiato, Caffe Latte at the touch of a button

AromaDoubleShot: Extra-strong coffee with less bitterness thanks to two grinding and brewing processes

Beverage temperature individually adjustable: Coffee: 3 grades, Hot water: 4 grades

optional Brita water filter: Reduces the lime content of water and filters substances affecting smell and taste
CONVENIENCE
4.1" TFT display with interactive menu

MyCoffee: Save favourite beverages with individual names and adjustable mixing ratio of milk and espresso

IndividualCupVolume: Cup sizes individually adjustable, to ensure your cup gets filled just as much as you would like it to

Coffee outlet and milk frother height-adjustable: Up to 15 high Latte Macchiato glasses fit underneath

OneTouch DoubleCup: Prepare two cups simultaneously for all coffee and milk specialities

Removable 2.4 litre water tank

Early warning when bean container or water tank are close to empty

Flexible milk solution: Decide for yourself if you prefer connecting the provided milk container or using any other container, e.g. a milk carton

Short user manual always at hand inside appliance
PERFORMANCE
SilentCeramDrive: High-value ceramic grinding unit

CoffeeSensorPro: The grinding unit automatically adjusts to bean variety

One-touch coffee milk specialities with especially fine-pored milk froth thanks to an innovative milk frother

In addition to beverages also available separately: milk foam, warm milk, hot water

Reduced heating-up time: fastest first cup!

Water pump with 19 bar pressure

Separate chute for pre-ground coffee

15.000 cup warranty: Consistently high appliance quality from the first cup to the 15,000th (valid for non-commercial use within 24 months)

Power 1700 W
HYGIENE
Removable brewing unit: Easy and hygienic cleaning under running water

AutoMilkClean: Fully-automatic steam cleaning of the milk system after every beverage

All milk nozzle parts are easily removable, separable, easy to clean and dishwasher-proof

SinglePortionCleaning: Complete emptying of all pipes after each brewing process

Automatic rinsing program when switched on or off

Removable drip tray with container for coffee dregs

Fully automatic descaling & cleaning program (combined Calc'n'Clean program available)
EXTRAS
Containers for water, milk and coffee beans are easily accessible but hidden behind a door, so the kitchen always looks clean

Bean container with aroma protection lid (500 g volume)

Illumination for keys, coffee outlet

Grinding fineness adjustable (multi-level)

Child-proof lock: key lock preventing unintended brewing cycle
ACCESSORIES
Insulated milk container with FreshLock lid (0.5 l volume)

Included accessories:
1 x scoop

1 x test strip

1 x milk container (insulated)

1 x connection hose for milk frother

1 x milk pipe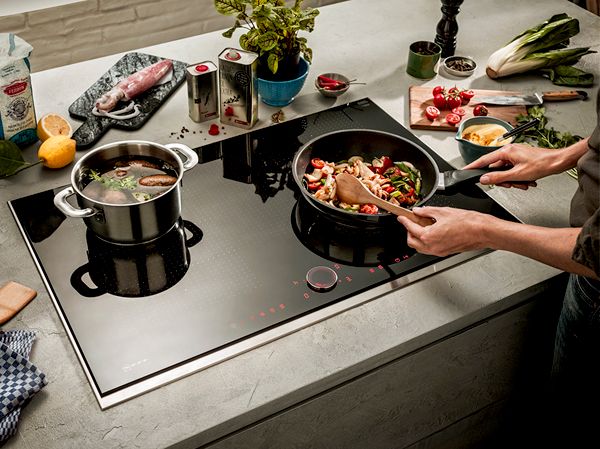 ---
Camberwell Electrics Delivery Options
Customer Service is important to us, we offer two delivery options:
Standard Delivery - (Door to Door Only)
Premium Delivery - (Deliver, Unpack, Placement, Check Product, Takeaway Rubbish)
Call one of our team on 1300 882 257 to discuss the best delivery option suitable for your location and product.
I

mportant Note About Product Specifications
Every effort is made to ensure all specifications and information within this website is correct and up to date.
Due to continuous improvements on both technical and manufacturing level this information should be regarded as indicative only.
For installation of products requiring exact measurements, a product's measurements should only be taken from the actual physical product.
NOTE: On all handmade products the measurements can vary from the manufacture's information.
Stock Availability Note: We do not have stock levels on our website. Due to carry such a large range of products, some products are supplied direct from the supplier and some are from our warehouse.
When you place your order it may be in our warehouse or we may need to source it from our suppliers.
Each order is MANUALLY processed, when you place your order, the stock availability is checked. One of our friendly Product Specialists will then call you to confirm your order and advise you as to the stock availability.
If we cannot contact you we will either leave a voicemail message or send you an email with the relevant information.
Coffee machine

Bean container capacity

500 g

Water container capacity

2.4 L

Coffee system

Grinding system

Frothing nozzle

Yes

Hot water spout

Yes

Pre-brew system

No

Pre-grind system

No

Removable brew unit

Yes

Simultaneous preparation of 2 cups

Yes

Standby function

Yes

Colour

Colour

Black

Display

Available languages display

Danish, Dutch, English, Finnish, French, German, G

Functions & Options

Adjustable programs

Brewing temperature, Coffee powder quantity per cu

Other features

Light

Yes

Energy Details

Connection rating

1600 W

Frequency

50/60 Hz

Connected load

220-240 V

Fuse size

10A A

Technical details

Door hinge

Other

Number of pumps

1

Plug type

Gardy plug w/ earthing

Safety device

, Lock. if trester cont. is full, Locking if bean

Type of control setting and signalling devices

electronical

Typology

Fully automatic

Water protection system

No

Warranty

Warranty

4 years

Weight & dimensions

Height of appliance

455 mm

Width of appliance

596 mm

Depth of appliance

376 mm

Minimum niche height

449 mm

Maximum niche height

449 mm

Minimum niche width

558 mm

Maximum niche width

558 mm

Niche depth

354 mm

Height of the packed product

545 mm

Width of the packed product

475 mm

Depth of the packed product

670 mm

Electrical cord length

170 cm

Gross weight

22.36 kg

Net weight

19.38 kg

Certificates

Approval certificates

Australia Standards, CE, Eurasian, VDE