| | |
| --- | --- |
| Model: | SC-HC200GN-K |
| IPN: | 720826 |
| Brand: | Panasonic |
| Colour: | Black |
| Manufacturer's Warranty: | 1 year |
| Manufacturer's Warranty: | 20W |
Panasonic 20W Micro Hi-Fi System with AM/FM Radio
Panasonic's SC-HC200GN-K Bluetooth Micro HiFi System is a thin, elegant and stylish design to match the decor of any room. This HiFi system boasts the flexibility of being able to be wall mounted or placed on a shelf to blend into your living spaces.|Panasonic's 20W Micro HiFi has a long list of functions, including Bluetooth connectivity, USB, CD and radio, to allow you to listen to music the way you like it. You have the option to download the Panasonic Music Streaming App to control and stream your music.|The 2 channel speakers give a full range and dynamic sound reproduction to ensure your music sounds the way it is meant to be listened to.
Sleek, elegantly designed, yet powerful, the Panasonic 20W Micro Hi-Fi System with AM/FM Radio provides clear and crisp audio playback while seamlessly blending with various interior designs.
Key Features
The Panasonic 20W Micro Hi-Fi System with AM/FM Radio has a 2-channel digital amplifier for full-range, dynamic sound with minimal distortions and enhanced clarity.

Integrating Bluetooth connectivity and supporting CD, USB, and AM/FM radio, this Panasonic Micro Hi-Fi system can access different music sources. Use the Panasonic Music Streaming app (download required) on your paired device to control and stream your content.

This Hi-Fi system can be placed on a shelf or wall-mounted to suit different living room setups.
Stylish Audio for Modern Living
The HC200 sports a slim design, yet it delivers pure and clear sound with minimum distortion. It lets you enjoy not only CD and radio but also various other music media via Bluetooth. In spite of its reasonable price, the HC200 will bring a new music expe
20W, 2ch Digital Amp, 8cm Full-Range Speaker Units, Bluetooth, CD, USB, 30 FM Radio Presets, 14 AM Radio Presets, Compact Design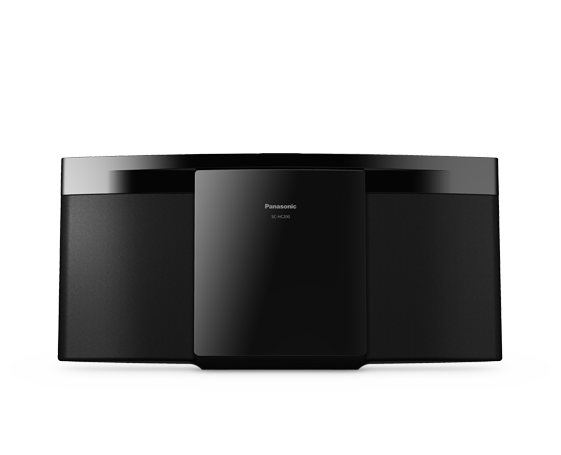 Clear and Dynamic Sound
The compact and slender case is home to the latest sound technology. The 2ch digital amplifier represents the centerpiece which delivers a clear and dynamic sound without distortions.
The HC200 will fit your lifestyle and enhance it with great sound.
Slim and Stylish Design
This simple yet elegant design blends perfectly with any room interior from traditional to contemporary.
Designed for Music Lovers
Whether you enjoy listening to more traditional sources such as your CD collection or radio broadcasts, this flexible HiFi system also embraces the latest in music streaming services too via Bluetooth. Just download the free Panasonic Music Streaming App to control and stream all the content you love from your favourite music subscription services.
---
Camberwell Electrics Delivery Options
Customer Service is important to us, we offer two delivery options:
Standard Delivery - (Door to Door Only)
Premium Delivery - (Deliver, Unpack, Placement, Check Product, Takeaway Rubbish)
Call one of our team on 1300 882 257 to discuss the best delivery option suitable for your location and product.
I

mportant Note About Product Specifications
Every effort is made to ensure all specifications and information within this website is correct and up to date.
Due to continuous improvements on both technical and manufacturing level this information should be regarded as indicative only.
For installation of products requiring exact measurements, a product's measurements should only be taken from the actual physical product.
NOTE: On all handmade products the measurements can vary from the manufacture's information.
Stock Availability Note: We do not have stock levels on our website. Due to carry such a large range of products, some products are supplied direct from the supplier and some are from our warehouse.
When you place your order it may be in our warehouse or we may need to source it from our suppliers.
Each order is MANUALLY processed, when you place your order, the stock availability is checked. One of our friendly Product Specialists will then call you to confirm your order and advise you as to the stock availability.
If we cannot contact you we will either leave a voicemail message or send you an email with the relevant information.
| | |
| --- | --- |
| Model | SC-HC200GN-K |
| Size | 20W |
| Product Height (cm) | 19.7 |
| Product Width (cm) | 40 |
| Product Depth (cm) | 10.7 |
| Amp Type | 2ch Digital Amp |
| Front Channel - RMS Output Power | 10w Per channel(8ohms, 1kHz, 10% THD) |
| Total RMS stereo mode power | 20W |
| Front Speaker / Type | 1 way, 1 speaker system(Bass reflex) |
| Front Speaker / Speaker Unit | Full range 8cm cone type x2/pcs. |
| Playback Disc | CD-R / RW |
| Format | CD-DA / MP3 |
| USB Standard | USB 2.0 full speed |
| Support Format | MP3 |
| Playback | Yes |
| Station Presets | FM: 30 stations; AM: 15 stations |
| Antenna Terminal | 75ohm |
| Bluetooth Version | Bluetooth® Ver 2.1 + EDR |
| Class | Class |
| Wireless audio playback function | Yes |
| Remote control function | Yes |
| Codec, SBC | Yes |
| Connectivity, Multi-Pairing | Yes (MAX 8 Devices) |
| iOS | Yes (Bluetooth) |
| Android | Yes (Bluetooth) |
| Super Sound EQ, Super Bass Sound | D.Bass |
| Preset EQ | 4 Preset |
| Manual EQ | Bass / Treble |
| Surround sound mode | Yes |
| My sound setting | Yes |
| Bluetooth Re-Master | Yes |
| USB Port | USB Type-A x1 |
| Power Supply | AC 220 - 240V, 50Hz |
| Power Consumption | Normal Use: 14W; Normal Standby: 0.2W; Bluetooth Standby: 0.3W |
| Dimmer | Yes |
| Auto Off | Yes |
| Timer | Sleep, Clock, Play Timer |
| AC Cord Length | 1.5m |
| Colour | Black cord |
| Connectivity | Bluetooth, USB 2.0 |
| Weight (kg) | 1.9 |
| Manufacturers Express Warranty (months) | 12 |