| | |
| --- | --- |
| Model: | SC-HTB700GNK |
| IPN: | 762139 |
| Brand: | Panasonic |
| Colour: | Black |
| Manufacturer's Warranty: | 1 year |
| Manufacturer's Warranty: | 376W |
Panasonic 376W 3.1CH Dolby Atmos Soundbar
The HTB700 supports the state-of-the-art audio formats Dolby Atmos and DTS:X. Powerful, dynamic sound that moves around in all directions gives you a more immersive cinematic experience.
Treat your ears to a superb sound experience without the need for arranging multiple speakers around your room by using the Panasonic 3.1 Channel 376W Dolby Atmos DTS:X Soundbar with Wireless Subwoofer. With support for Dolby Atmos and DTS:X sound formats, it delivers thrilling surround sound to take your home entertainment experience to new heights.
Key Features
Three, 6.5cm mid-range speakers produce full-bodied audio

Floor-facing subwoofer outputs powerful bass

High-strength casing helps reduce the effects of vibration

Bluetooth-enabled, allowing you to pair it with a compatible device for wireless music streaming

Showcases matte, glossy, and hairline surface textures for a more sophisticated look
Features:
Exceptional Sound for Premium Cinema Experience
The HTB700 offers various sound modes so you can enjoy the best sound quality regardless of genre, and supports the state-of-the-art audio formats Dolby Atmos® and DTS:X™. Powerful, dynamic sound that moves around in all directions gives you a more immers
376W, 3.1ch, Wireless Subwoofer, Dolby Atmos® & DTS:X™ Supported, 4K & HDR Pass Through, Bluetooth®, 3D & Virtual Surround, HDMI-CEC Compatibility, Audio Return Channel, Optical Digital Audio Input, Minimalist Design, Wall Mountable.
An Immersive Cinematic Experience with Dolby Atmos® / DTS:X
With new support for state-of-the-art audio formats Dolby Atmos and DTS:X, the sound pours in from all directions, including overhead.
Powerful, dynamic sound travels in 3D space to bring you inside an immersive cinematic experience.
High-quality Speakersfor Immersive Sound
A total of three 6.5cm Mid-range speakers positioned across the face of the unit produce a high-quality sound field worthy of any movie. Immerse yourself fully in movies with sounds like you're right there.
Powerful Bass Sound with Unwired Flexibility
The HTB series uses a wireless subwoofer that requires no bothersome connection cords. With the subwoofer facing the floor, powerful bass is achieved by the downward release of sound from the speaker unit and port. The unit also achieves clear sound thanks to a highstrength casing that reduces the influence of vibrations.
Seamless 4K Quality
The HTB700 supports 4K Pass Through. Enjoy highdefinition 4K content with no loss in image quality, as video source passes through the system from receiver to 4K TV. Also supports HDR Pass Through.
Stream Your Favourite Music Wirelessly
The HTB700 can play audio files from your smartphone, tablet, or other devices through Bluetooth connection. You can easily enjoy your favourite music by installing the Panasonic Music Streaming App, which lets you create playlists or drag­and­drop to change the order of songs playing.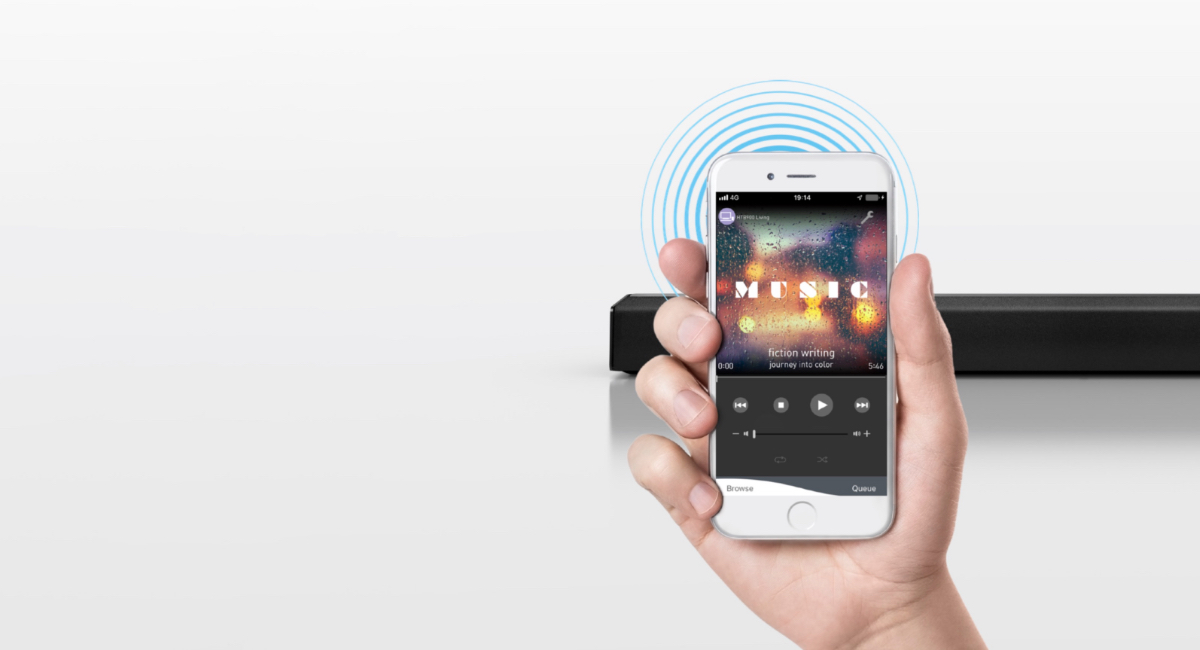 Material & FinishFabric Grill
An elegant contrast is created by combining materials with high-quality matte, glossy, and hairline surface textures.
Wall Mountable Design
The design harmonises the TV with the wall by minimising the gap when wall-mounting the soundbar.
One of the Best Shapes for Two Watching Styles
The HTB700 offers an optimal listening experience on the cabinet or wall­mount configuration. By providing the main unit with a slant of approximately 7 degrees, the speaker matches either of the two installation types. Sound is sent to the ears at the best possible angle for an expansive, room filling effect.
---
Camberwell Electrics Delivery Options
Customer Service is important to us, we offer two delivery options:
Standard Delivery - (Door to Door Only)
Premium Delivery - (Deliver, Unpack, Placement, Check Product, Takeaway Rubbish)
Call one of our team on 1300 882 257 to discuss the best delivery option suitable for your location and product.
I

mportant Note About Product Specifications
Every effort is made to ensure all specifications and information within this website is correct and up to date.
Due to continuous improvements on both technical and manufacturing level this information should be regarded as indicative only.
For installation of products requiring exact measurements, a product's measurements should only be taken from the actual physical product.
NOTE: On all handmade products the measurements can vary from the manufacture's information.
Stock Availability Note: We do not have stock levels on our website. Due to carry such a large range of products, some products are supplied direct from the supplier and some are from our warehouse.
When you place your order it may be in our warehouse or we may need to source it from our suppliers.
Each order is MANUALLY processed, when you place your order, the stock availability is checked. One of our friendly Product Specialists will then call you to confirm your order and advise you as to the stock availability.
If we cannot contact you we will either leave a voicemail message or send you an email with the relevant information.
| | |
| --- | --- |
| Model | SC-HTB700GNK |
| Size | 376W |
| Product Width (cm) | 105 |
| Product Depth (cm) | 12.8 |
| Product Height (cm) | 7.8 |
| Amp Type | 3.1 ch Amp |
| Front Ch | 126W (42W x 3) |
| Subwoofer | 250W |
| Total RMS Stereo mode power | 376 W |
| Type | 1 Way, 1 speaker system (Bass reflex) |
| Speaker Unit Full Range | 6.5 cm x 1 / ch, Cone type |
| Bass Expand | Bass Reflex Port x 2 |
| Type | 1 way, 1 speaker system(Closed) |
| Speaker Unit Full range | 6.5 cm x 1 / ch, Cone type |
| Type | 1 way, 1 speaker system(Bass reflex) |
| Speaker Unit | 16 cm x 1, Cone type |
| Bass Expand | Bass Reflex Port |
| Speaker Net | Fabric Grill |
| Version | Bluetooth® Ver 2.1 + EDR |
| Class | Class 2 |
| Codec | SBC |
| Bluetooth standby | yes |
| Multi-Pairing | yes (MAX 8 Devices) |
| Music Streaming App (Bluetooth) | iOS, Android |
| 3D Surround | Yes |
| Virtual Surround | Yes |
| SOUND MODE | STANDARD, STADIUM, MUSIC, CINEMA, NEWS, STRAIGHT |
| Subwoofer Level Adjustment | Yes |
| Clear-mode Dialog | Yes |
| Dialog Level Control | Yes |
| Low-volume Mode | Yes |
| Auto Gain Control | Yes |
| Auto LIP Synchronization with Panasonic TV Link | Yes |
| Dolby Digital / Dolby Digital + / Dolby True HD | Yes/Yes/Yes |
| Dolby Atmos | Yes |
| DTS Digital Surround / DTS ES / DTS 96/24 | Yes/Yes/Yes |
| DTS-HD HR / HD LBR / HD Master Audio | Yes/Yes/Yes |
| DTS:X | Yes |
| DTX Virtual:X | Yes |
| HDAVI Control | Yes |
| CEC | Yes |
| Audio Return Channel(for HDMI Output) | Yes |
| LPCM Multi Channel Input (HDMI Input) | Yes |
| 1080p, Deep Color, x.v. Color | Yes |
| 4K Pass through | Yes |
| FULL HD 3D COMPATIBLE | Yes |
| HDR | Yes |
| USB Port for Service Use | Yes |
| USB Port for Customer Software Update | Yes |
| HDMI Input | x 2 |
| HDMI Output | x 1 (ARC) |
| Optical Digital Input | Yes |
| IR System Terminal | Yes |
| Wall Mountable | Yes |
| TV Size for Fitting | 48 inch |
| Power Supply | AC 220 - 240 V, 50 Hz |
| Power Consumption Normal Use | 41 W |
| Power Consumption Normal Standby | 0.2W(OFF)/0.3W(ON) |
| Dimmer | FL Dimmer (Bright / Dark / OFF) |
| Auto OFF | Yes |
| Weight (kg) | 4.5 |
| Subwoofer Dimensions (cm) | 18.0 W x 40.8 H x 30.6 D |
| Manufacturers Express Warranty (months) | 12 |