| | |
| --- | --- |
| Model: | YSP2700B |
| IPN: | 664069 |
| Brand: | Yamaha |
| Colour: | Black |
| Manufacturer's Warranty: | 1 Year |
7.1Ch Soundbar with Wireless Subwoofer by Yamaha
Sophisticated technology in one sleek package. The solution for all your space saving needs.
Digital Sound Projector technology with 16 array speakers reproduces true 7.1-ch surround sound

MusicCast for audio enjoyment in every room

Wireless cubic subwoofer for rich and crisp bass

IntelliBeam™ automatically sets the optimum sound field for each room

Provides a choice of 10 CINEMA DSP programmes

HD Audio Format Decoding (Dolby TrueHD®, DTS-HD®)

Supports 192 kHz / 24-bit High Resolution Music (Flac / WAV / AIFF)

HDMI (3 in / 1 out) input with 4K60p Pass through and HDCP2.2

Bluetooth® for wireless music streaming

Supports Bluetooth output for pairing YSP-2700 and other Bluetooth equipped products

AirPlay® allows music streaming from Mac, PC, iPod®, iPhone®, iPad®

Support for internet radio and various music streaming services

Control app for easy operations (MusicCast CONTROLLER)

Compressed Music Enhancer

Clear Voice makes dialogue and narrations easy to listen to

Easy-to-see On Screen Menu viewable in ten languages

(Japanese, English, Germany, French, Italian, Spanish, Dutch, Swedish, Russian, Turkey)

Control4 certification

Wall-mountable with SPM-K20 (optional)
Amazing Real 7.1-ch Surround Sound by Digital Surround Projector Technology
YSP-2700 creates beams of sound by combining the sound projector's many speaker groups via digital signal processing and reflects them off the walls of the room, actually reproducing a realistic 7.1channel surround effect with the sound coming from the left and right and even from the rear. The listening area is expanded so you enjoy an extremely powerful, natural sense of presence unobtainable with virtual surround methods.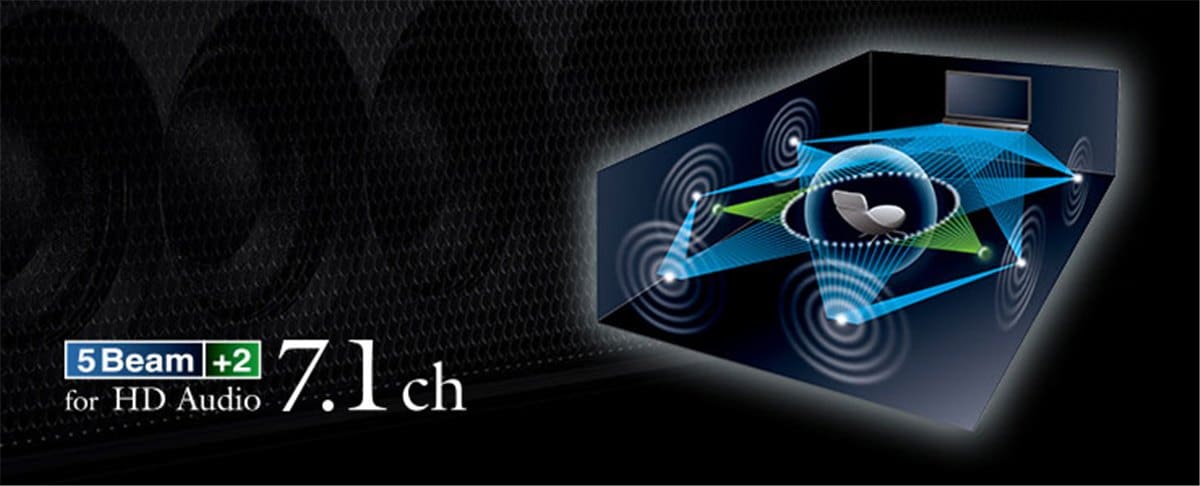 Overwhelming Realism with 16 speakers
The front unit of the YSP-2700 is equipped with 16 2.8 cm high sound quality array speakers which create beams of sound. It optimises the layout of its array speakers, boosting the reflection properties of the beams to maximise sound quality.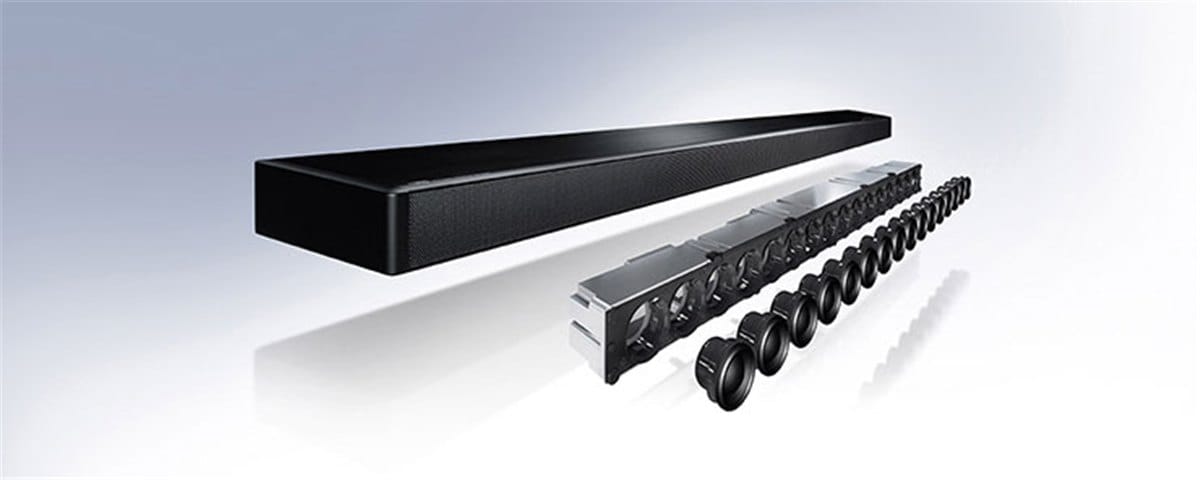 The Beauty and Elegance of High Quality Materials
The centre unit is made from aluminium with outstanding rigidity.
The top cover is a thick aluminium panel with a hairline finish, giving it an elegant appearance. The subwoofer has a simple design that blends nicely with any interior.

Sleek, Sophisticated Appearance
With a height of only 51 mm, the slim-design centre unit can be placed in front of a TV without blocking the picture.The high-class minimalist design and aluminium chassis will definitely add a sophisticated appearance to your interior decor.

Wireless Subwoofer for Flexible Placement
The subwoofer eliminates the need to connect cables, so setup and placement are faster and easier.
This is a convenient subwoofer that delivers powerful, high quality bass sound.

MusicCast
MusicCast is a new revolution in network audio, use all your MusicCast products together or separately, it's completely up to you. Control it, all from one app, designed to be intuitive, quick and simple to use. Use a soundbar, a wireless speaker, an AV Receiver, Hi-Fi audio whichever suits you best, mix and match then expand your MusicCast system as time goes on. All new from Yamaha, the MusicCast system brings everything to everywhere for everyone.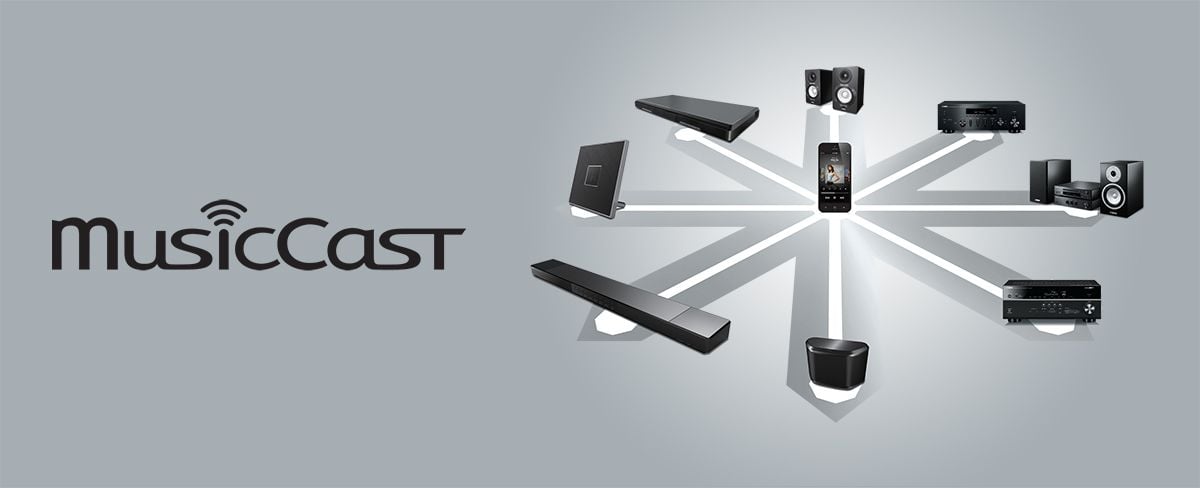 Enjoy All Your Music Sources
MusicCast employs a high performance wireless network to deliver music and audio enjoyment. It can stream digital music content from your smartphone, PC or NAS to other MusicCast devices in your home. It can also share the music from external devices such as a TV or BD player connected to the YSP-2700. Audio content from Bluetooth-connected smartphones or tablets can also be streamed to MusicCast devices in multiple rooms.

Control App for Easy Operations
The MusicCast Controller app can be used with a single MusicCast product or with multiple MusicCast products. The app features a beautifully designed display, which you can customise to your taste. Operation requires simply tapping the display, making it extremely easy to enjoy the music you want to hear. In addition, by using the YSP-2700 Beam setting or surround adjustments, you can perform detailed sound adjustment.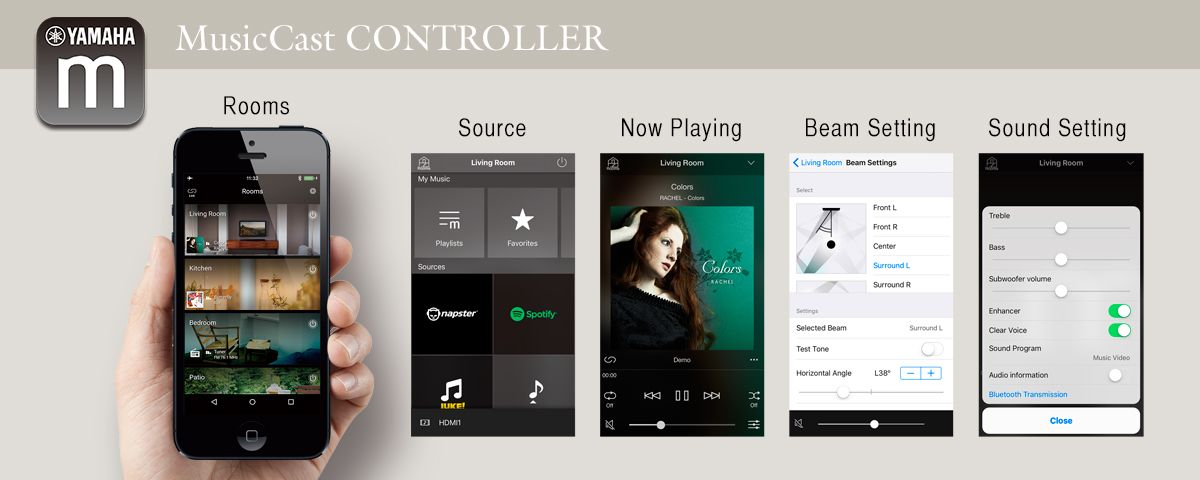 This app puts control of your home listening experience in the palm of your hand. It can be downloaded for free from the App Store or Google Play.
Professional-Grade Acoustic Calibration
Yamaha's IntelliBeam™ room acoustics calibration system automatically set the perfect listening environment. All the user has to do is push a few buttons while following the on-screen instructions. The system measures the room's acoustic properties such as size, shape and wall material, then adjusts the beam angles, focal lengths, volume and other audio parameters. The result is precise sound optimisation matched to the listening position, for any size and shape room.

Reproducing the Ambience of a Concert Hall, Live House and Theatre in Your Living Room
YAMAHA CINEMA DSP programmes are based on actual sound field data, measured in famous concert halls, jazz clubs, live performance venues and theatres. The result is an amazingly spacious and realistic sound field experience for enjoying music and viewing movies in your living room. The YSP-2700 features 10 different sound programmes for selection.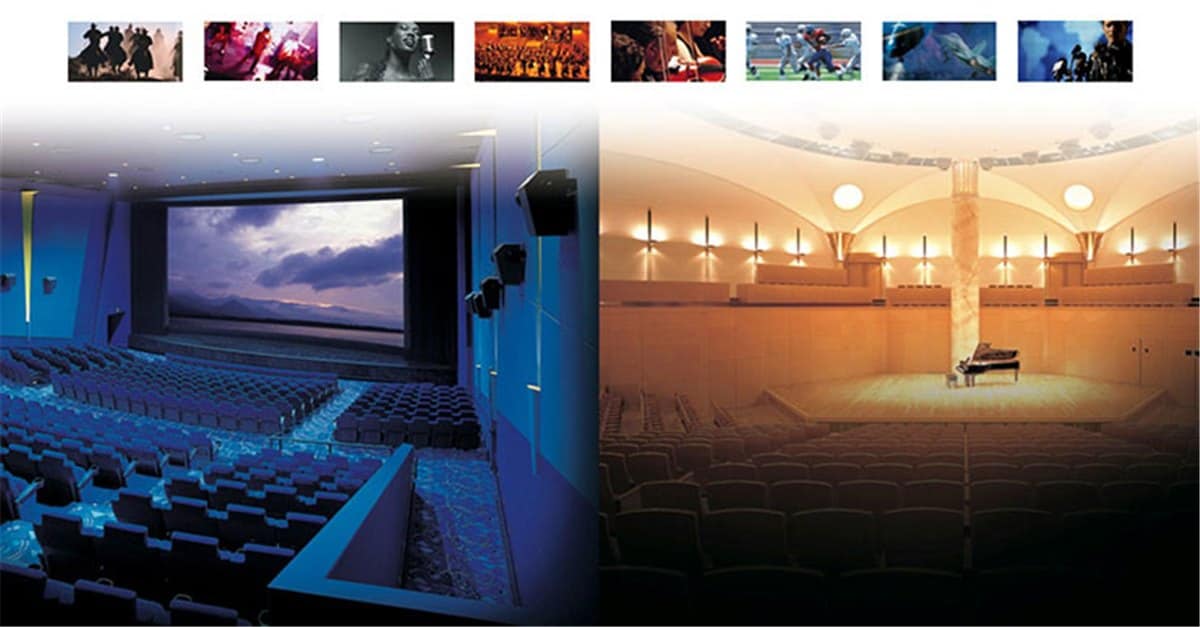 ---
Camberwell Electrics Delivery Options
Customer Service is important to us, we offer two delivery options:
Standard Delivery - (Door to Door Only)
Premium Delivery - (Deliver, Unpack, Placement, Check Product, Takeaway Rubbish)
Call one of our team on 1300 882 257 to discuss the best delivery option suitable for your location and product.
I

mportant Note About Product Specifications
Every effort is made to ensure all specifications and information within this website is correct and up to date.
Due to continuous improvements on both technical and manufacturing level this information should be regarded as indicative only.
For installation of products requiring exact measurements, a product's measurements should only be taken from the actual physical product.
NOTE: On all handmade products the measurements can vary from the manufacture's information.
Stock Availability Note: We do not have stock levels on our website. Due to carry such a large range of products, some products are supplied direct from the supplier and some are from our warehouse.
When you place your order it may be in our warehouse or we may need to source it from our suppliers.
Each order is MANUALLY processed, when you place your order, the stock availability is checked. One of our friendly Product Specialists will then call you to confirm your order and advise you as to the stock availability.
If we cannot contact you we will either leave a voicemail message or send you an email with the relevant information.
General

Output Channel

7.1-channel

Output Power

107 W total power: 2 W x 16 beam drivers + 75 W subwoofer

Power Consumption

(Centre Unit) 24 W, (Subwoofer) 75 W

Standby Power Consumption

(Centre Unit) 0.3 W (HDMI Control, LAN, Wi-Fi, Bluetooth Off), 2.3 W (HDMI control, Bluetooth on, LAN, Wi-Fi off) ; (Subwoofer) 1.5 W (Wireless Subwoofer MODE)

Beam Drivers

2.8 cm (1-1/8") x 16 beam drivers

Subwoofer

14 cm (5-1/2") cone woofer

Dimensions (W x H x D)

(Centre Unit) 944 x 51 x 154 mm ; 37-1/8" x 2" x 6" (*without stand and antenna) , (Subwoofer) 295 x 297 x 307 mm ; 11-5/8" x 11-3/4" x 12-1/8"

Weight

(Centre Unit) 4.0kg; 8.7 lbs., (Subwoofer) 9.1 kg; 20 lbs.

Input / Output

HDMI

3 in / 1 out

Digital Optical

1 in

Digital Coaxial

1 in

Analog Audio

1 in

Subwoofer output

Yes

HDMI

4K Pass-through

Yes (50 / 60 Hz YCbCr=4:4:4, HDR, HDCP2.2)

3D Pass-through

Yes

ARC

Yes

CEC

Yes

Auto Lip-Sync

Yes

Sound Technology

Surround Technology

Digital Sound Projector

CINEMA DSP Movie

3 (Sci-Fi, Adventure, Spectacle)

CINEMA DSP Music

3 (Music Video, Concert, Jazz Club)

CINEMA DSP Entertainment

4 (Sports, Talk Show, Drama, Game)

Listening Mode

SURROUND, STEREO, TARGET, My Surround, System memory

Compressed Music Enhancer

Yes

Audio Formats

Dolby TrueHD

Yes

Dolby Digital Plus

Yes

Dolby Digital

Yes

Dolby Digital EX

Yes

Dolby Pro Logic II

Yes

Dolby Pro Logic IIx

Yes

DTS-HD Master Audio

Yes

DTS-HD High Resolution

Yes

DTS

Yes

DTS-Neo 6

Yes

DTS-ES

Yes

DTS 96/24

Yes

Connectivity

Wireless Music Streaming

Yes

Wi-Fi

Yes

AirPlay

Yes

Bluetooth Version/Profile

(Version) Ver. 2.1 + EDR / A2DP, AVRCP; (Codec) SBC, AAC

Bluetooth Maximum Communication Range

10 m ; 33 ft (*without obstructions)

Ethernet

Yes

Other Features

IntelliBeam

Yes

On-Screen Display

Yes

On-Screen Display Languages

English, German, French, Spanish, Italian, Dutch, Russian, Swedish, Turkish, Japanese

ECO Mode

Yes

App Control

Yes

Accessories (Optional)

Wall Mounting Bracket

SPM-K20

Front Surround System

Audio Formats

File Format

MP3, WMA, MPEG4 AAC, Apple LossLess(*1), WAV(*2), FLAC(*2), AIFF(*2) --- (*1) up to 96 kHz (*2) up to 192 kHz